Back in the old days, tech items did what they were supposed to do—your stereo played music, your phone rang—and adult toys did what they were made for. If you were the kind of creative and energetic individual who might like to find your pleasure somewhere beside the bedroom, you had the spin cycle on your washer, but that was about it. Some families probably had ridiculously clean clothes all the time and never thought about why. The lady of the house was feeling frisky.
Well, both technology and adult toys have come a long way, Baby. The newest crop of adult products uses technology to make your home a hotter and happier one in ways that I never would have dreamed of twenty years ago. And with modern washing machines' vibration control features, it's time to look for other solutions.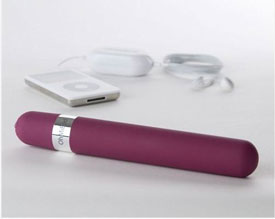 OhMiBod is one company that's very serious about helping you make the most of your tech products. Their Freestyle vibrator ($126) plugs into your iPod, iPhone or any other MP3 player and moves to the music, helping you rock out like never have before with its 2.4GH wireless transmitter. Why else would it have wound up in the gift bags at this year's Grammy Awards? It works without music, too, or you can hook it up to your home stereo: I think the first song you should try it with is "Good Vibrations", with the volume up as loud as your neighbors will put up.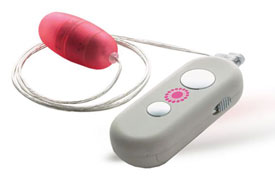 OhMiBod's Boditalk escort ($69) vibe works in conjunction with your cell phone so that every single call can be a welcome one. Calls made to or from your cell phone trigger a vibrating pattern in the Boditalk vibe that can last throughout an entire call – perfect for those intimate conversations with your partner, especially if he or she is too far away to literally reach out and touch you. Call him up and read him a little something like "Fairy Tale Lust" or just tell him what you've been thinking about doing all day – just make sure you're not in a hurry to be anywhere.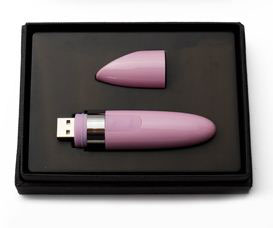 LELO puts out some of the most elegant, design-conscious toys on the market and their Mia ($50) vibe's functionality is as lovely as its sleek "lipstick-like" appearance (seriously, toss it in your make-up bag and it could be something by L'Oreal). Mia's great little secret is that it charges through your computer's USB port. Spend two hours doing a few online projects and when you're done, you and Mia can take a nice, long, four hour break together. Of course, you may not need that much time but that's how long this little powerhouse can hold a charge.
Looking for a vibrator that you can carry with you anywhere, anytime? You probably already have one - the smartphone in your purse. Smartphones won't offer anywhere near the vibration intensity of the vibrators above (and please don't get it wet!), but if you can't be with the one you love, love the one you're with.
Steve Jobs may be restricting porn apps in the iTunes Store, but that doesn't mean you can't use the iPhone to create your own sexual fun. The MyVibe app lets you choose from 100 different vibration speeds and intensity levels, and will even vibrate with the screen turned off to save battery power. Best yet, it's free.
Have one of the new Android phones? PleasureDroid may be the droid you're looking for. It offers six vibration programs plus the ability to create your own custom patterns. And it's free, too!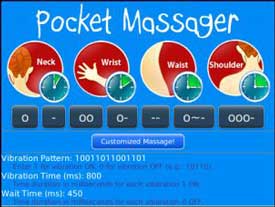 Even the stodgy BlackBerry has an app. Pocket Massager has seven pre-loaded massage modes and users can customize the massage pattern based on their "needs". At 99-cents, it's still a bargain.
With all this new technology on the market, all those previously multi-tasking washers are doomed to feel as lonely as their Maytag repairmen.