The Best Digital Camcorders 2011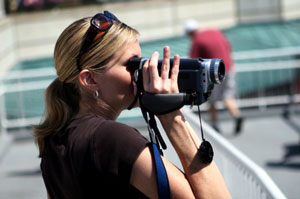 Buying a camcorder today offers presents two wildly divergent choices: a cheap and easy pocketcam for less than $200 or a sophisticated, but higher-priced, full-size camcorder starting around $500. In between you'll find traditional-style models that have optical zoom lenses, but few of the features of a full-size model.
Because of the wide pricing and capability chasm between pocketcams and full-size HD models, the type of footage you plan on capturing should determine the type of camcorder you buy.
If your video purpose is to capture family, don't rationalize possible savings by settling for a pocketcam over a more expensive full-size camcorder. In 10 or 20 years, when ultra-HD 65-inch TVs are the norm, you don't want to regret not having invested the extra dough to preserve higher-quality memories.
Many full-size camcorders also include a microphone input jack. An external microphone is critical for capturing family interviews, such as preserving grandparent memories for your young children who will mature into genealogically curious adults and will cherish your foresight. And for those that want the latest, there are even a few 3D models.
Pocketcams are perfect for spontaneous video capture, great to carry around with you to shoot those quick-passing and quick-moving moments. Pocketcams are better suited as complementary rather than primary video capture devices, a function which can also be served by your cell phone or a digital still camera with HD video capture.
The Importance of Image Stabilization
All camcorders employ some form of image stabilization to keep your footage from shaking to the point of nausea. Full-size camcorders use optical IS, which mechanically isolates the lens, and pocketcams utilize digital IS, which relies on a processor inside the camera to electronically reduce shaking. The two methods are not equal.
Digital IS schemes don't completely quell all inadvertent hand movements – pocketcams are so light, your hand and arm tends to move around a lot more, producing shakes even the most sophisticated IS couldn't stop. Digital IS also produces digital artifacts, such as pixelization.
Check out this video of Techlicious contributor Stewart Wolpin throwing out the first pitch at CitiField in New York earlier this year. It was shot with a pocketcam with digital IS and with the operator employing every known physical camera stabilization technique. You'll notice there is still a considerable amount of shake and a high level of edge fuzziness produced by the IS.
With the optical IS on full-size camcorders, it will seem as if the scene is floating as you bounce along. And the optical technology produces no digital artifacts and is able to compensate for almost any hand movement or vibration the camcorder encounters.
Type of Zoom
Full-size camcorders use optical zoom lenses to magnify your subject. Pocketcams typically use digital zooms to simulate zooming, which results in image artifacts.
The Ability to Take Still Photos
Many camcorders also snap still pictures, some as high as 12 MP. This doesn't mean that camcorders with digital still capability are on par with a standalone digital camera. But its great to know that you can use your camcorder for stills in a pinch.
Can Your Cell Phone Serve as Your Pocketcam?
If you are considering a pocketcam, know that a digital still camera with HD video capture capability or one of the new smartphones, such as the iPhone 4, the Samsung Galaxy S 4G, or the HTC Thunderbolt, all offer HD video recording rivaling footage captured by single-function pocketcams. Some HD-video-capable cell phones also offer the added convenience of wireless video uploading to sites such as YouTube or Facebook immediately after shooting and without needing a PC.
What you lose by not having a dedicated pocketcam is the simple operation that make pocketcams such a pleasure to use and some of the step-up features, such as water-resistance, of the models we selected as "Our Picks."
Our Picks
To determine "Our Picks," we combine research from a wide gamut of leading technical review sources, actual owner experiences from public review forums and our own evaluation of the products and their features. Our goal is to select products that we believe will provide you the best ownership experience, with solid underlying functionality, expected long-term reliability and intuitive operation.
Prices are current as of April 26, 2011.
Entry Level
At $50, the tiny waterproof Kodak Mini is the perfect pocketcam to purchase for getting your guests to cover weddings and other large events. It's standard definition, so if you're looking for better quality you can step up to the Mini HD ($130).
Price: $50

Resolution: 480p, 0.3MP stills
Storage: 2 SD microCard
Lens: 3x digital zoom
Display: 1.8-inch LCD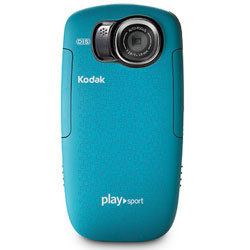 Perfect for candid snaps in wet situations, the Playsport can shoot HD footage up to 10 feet under water, which also makes it handy for a day at the beach. An LCD screen "glare shield" also helps you see what you're shooting in bright sunshine. Plus built-in image stabilization smooths out your videos.
Price: $179

Resolution: 1080p, 5MP stills
Storage: SD Card
Lens: 4x digital zoom
Display: 2-inch LCD
Mid-range
Good low-light performance and overall high-quality video make the HMX-H300 a great mid-range choice. You'll also find a long 30x optical zoom paired with optical image stabilization for extra smooth shooting when you zoom in and HD time-lapse recording.
Price: $289

Resolution: 1080p, 5MP stills
Storage: SD card
Lens: 30x optical zoom with optical image stabilization
Display: 3-inch touchscreen
High-quality video, good low light performance and a bunch of high-end features make the HDR-CX160 a great mid-range choice. You'll find face detection, smile shutter for stills and video, tracking focus and a wide-angle 30x optical zoom paired with Sony's optical image stabilization to name a few.
Price: $498

Resolution: 1080p, 3MP stills
Storage: 16 GB internal storage plus SD card slot
Lens: 30x optical zoom with optical image stabilization
Display: 3-inch touchscreen
High-end
Top rated by pros and consumers alike, the Panasonic HDC-TM900 delivers superb quality by pairing great Leica optics with three image sensors–one each for red, green and blue. The extras are advanced as well. You can register up to six people's faces so they're automatically prioritized for auto-focus and exposure tracking when the camera "sees" them. Plus, you can capture 3D video with the VW-CLT1 3D camcorder lens
($349).
Price: $999

Resolution: 1080p, 7.9MP stills
Storage: 32GB internal and SD card
Lens: 12x optical zoom with power optical image stabilization
Display: 3.5-inch LCD

Subscribe to the Techlicious Daily Email!
Get the Techlicious Guide to Great Photography as your FREE gift!
Discussion