The Best iPhone Apps for a Road Trip
Now that the kids are out of school, my family is ramping up for a big driving trip: Minnesota to New York to Maine to Quebec to Ontario and home. While your summer road trip may or may not be as ambitious as ours, one thing is certain—if you've got an iPhone there are a plethora of apps that can make your trip infinitely better. Here are the apps I plan to use when we head east: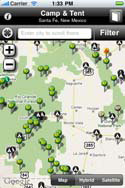 Camp & Tent
To cut down on expenses and cultivate priceless camping memories, we only use hotels occasionally when taking a driving trip. This app provides a simple way to find campgrounds close to where you are, or where you're going. Vacationers who opt for campers instead of tents should check out Camp & RV ($5.99), which adds RV-only parks, truck stops, rest stops, RV dealers, low clearances and more. Price: $4.99
Trip Advisor
I never ever stay in a hotel without checking its ranking and reviews by other travelers at Trip Advisor. While you can search for hotels by city or zip code, TripAdvisor also lets you find ones that are closest to your current location. It pulls up the highest ranking hotels first, lets you check rates and tells you how many miles away they are or shows them on a map relative to your location. Price: Free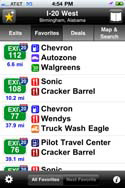 iExit
You have to be on an interstate to use this one. Let's say it's lunchtime and your kids want to eat at Sonic. iExit will tell you which of the upcoming exits has one. If it's too far up the road, you can also find out which exits have restaurants offering special deals. Price: $1.99
Where
Finding nearby restaurants or businesses, is a snap with Where. It uses your current location to make suggestions in these categories: Eat, Drink, Play (think aquariums, arcades and art galleries), Guides (which are insider tips from CitySearch), Best Bets (which provides custom suggestions) and Local Info (such as nearest ATMs, coupons and gas stations). Before you leave on your trip, you can also bump your iPhone with a friend's to swap preferences and find places you'll both like. Price: Free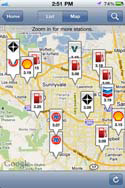 Gas Buddy or Fuel Finder
Both of these find fuel prices and stations close to you. I tried both and preferred Fuel Finder, which has a more intuitive interface. That said, people who post current gas prices on Gas Buddy have a chance to win free gas, which the company gives away each week. Plus, Gas Buddy won't cost you anything. Price: Free (Gas Buddy, shown), $2.99 (Fuel Finder)
Repair Pal
I can tell you from experience that it's not a real road trip unless your vehicle breaks down and you're left stranded by the side of the road in Nowhere, USA, without air conditioning. When this calamity strikes, you input the make and model of your vehicle and what you think is wrong with it, and this app gives you a list of mechanics and estimates the cost of the repair, breaking it down into parts and labor, and even offer common misdiagnoses. (If you don't know what's wrong, you can specify that you need a diagnosis.)
When I did a search for repair shops within five miles of my office that can replace two front oxygen sensors (which I actually need for my vehicle), Repair Pal gave me loads of mechanics—most of whom I hadn't known about beforehand. You can also use the app's one-touch roadside assistance, which will connect you to a call center that will make sure you get a tow, gas, tire change, battery charge or lockout assistance. Price: Free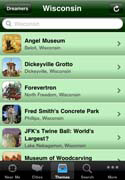 Roadside America
This one searches for offbeat, quirky or interesting sites near you. I did a search from my office and came up with a ton of weird things I never knew were within driving distance. Who knew the world's largest twine ball was only 30 miles away? Or that an Ergot museum (it's a fungus) is only 22 miles away? One caveat—some of these things aren't worth a detour, but rather a quick look if they're just off an exit you're passing. For instance, the closest attraction to my current location is a "Big Chicken," which might be alluring if I didn't know it is simply that—a humongous chicken in the front yard of a gas station and nothing else. Price: $2.99 for permanent access to one region of the U.S., $5.99/year to unlock more than 6,000 attractions across the nation
Wi-Fi Finder
This app does exactly what it says it does. It pulls up a map showing the public spots closest to your current location. Price: Free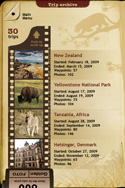 Trip Journal
If you've ever taken a trip and wished people at home could see what you were experiencing, this in-depth app is a good bet. Using GPS, it can track and save all your way points, geotag your photos and videos, and archive all your trips in a film-reel interface for viewing later. With the Trip Journal Facebook app, friends and family can see your route, locations visited, photos and videos, comments and blog entries. Price: $2.99
Anti Sleep Pilot
Although this is the most expensive app on our list, it's a good investment if you need to do any extended-range driving during your trip. It calculates your fatigue level, helps to maintain your alertness by suggesting simple tasks, and recommends breaks when you need them. ASP automatically records driving time, time of day, and reaction times which are detected using GPS and your phone's accelerometer. The only thing other than your phone that you need with this app is a phone holder that you can use to mount your phone within easy reaching and seeing distance. ASP only works with iPhone 3GS and iPhone 4. Price: $19.99

Subscribe to the Techlicious Daily Email!
Get the Techlicious Guide to Great Photography as your FREE gift!
Discussion