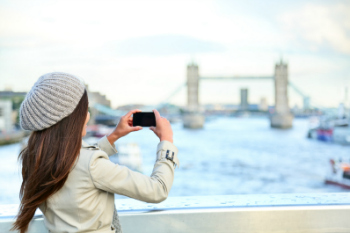 Searching with words is so 2010 —searching with images is the wave of the future. Whether you're trying to identify something you'd like to buy, checking for deals or looking for information on what you see in the world around you, visual search apps can help. While Google Goggles seems to have gone the way of the dinosaurs (at least according to many of the app's recent reviewers), rumor has it that the company is working on an even better Android camera that automatically incorporates visual search. But rest assured that armed with a smartphone and one of these apps, all you have to do is snap a photo and the app will try to identify the object or landmark and find information on it.
Ready to get started? Here are our favorite visual search apps.
Best App for Searching for Anything and Everything: CamFind
CamFind is a visual search app that is trying to pick up where Google Goggles left off. All you have to do is point and shoot at any object, and CamFind does a pretty good job of telling you what it is. I took a picture of my cat and the app realized she was a black cat, and delivered the results in real time. The camera also knew the Mona Lisa from her smile and offered eBay, Etsy, CNN and PBS results about the Mona Lisa. It's a great app if you want to learn about whatever you're looking at (or if you've forgotten the name of something and really want to remember it).
Price: Free on iOS and at Google Play
Best app for all kinds of shopping: Amazon Mobile
If shopping is what you're interested in, Amazon Mobile makes it easy for you to find anything they stock using your smartphone camera.
Just fire up your Amazon app and click on the camera next to the search bar. The camera then turns on and little dots will try to find the outlines of what you're taking a picture of, then offer suggestions. Sometimes, Amazon doesn't recognize the object itself and asks if you want to search for the category it thinks the item is; for example, I pointed the camera to my UE Boom Speaker, and while it didn't recognize that it was the UE Boom, it did recognize I was pointing my camera at a speaker.
If you want to shop on Amazon, this is the perfect helper.
Price: Free on iOS and Google Play
Best for house hunting: Homesnap
Looking for the perfect home? Homesnap is the app for you. If you see a property you like while you're driving around looking at neighborhoods, take a photo using the Homesnap app to pull up the home's complete real estate listing.
You'll get easy access to the property's full details plus photos, all without having to get out of your car to grab a flyer.
Price: Free on iOS and Google Play
Best App for Searching for Deals: Snipsnap
If you are a couponer, chances are you're pretty strategic about where you buy; after all, the fun is in the search for the lowest price! Snipsnap is perfect for that- just take a photo of any paper coupon and the app will turn it into a mobile offer to be scanned. Even better, if you take a photo of a product, the app will recognize it, then find the prices of it from huge databases of stores and coupons. You'll always get the best price.
Price: Free on iOS and Google Play
Best App for Pinners: Pinterest
That's right, if you can pin it, you can find it (well, at least a close approximation of it from other pins). Pinterest released their visual search tool last November for both mobile and desktop, and it's really easy to use. Just click on the pin with the item you fancy, then tap the search icon in the corner. You can then adjust the box that appears to only search for what's in it. Pinterest then gives you a set of pins that look similar to the image you selected so you can hopefully find where to get the item. Now that you know about this feature, we can guarantee you'll be using it all the time.
Price: Free on iOS and Google Play
This post was updated on 4/4/16.
[woman with smartphone camera at tower bridge image via Shutterstock; Other images via Snipsnap, Homesnap and Chelsey B. Coombs/Techlicious]