Review of the Samsung Galaxy S 4G (T-Mobile)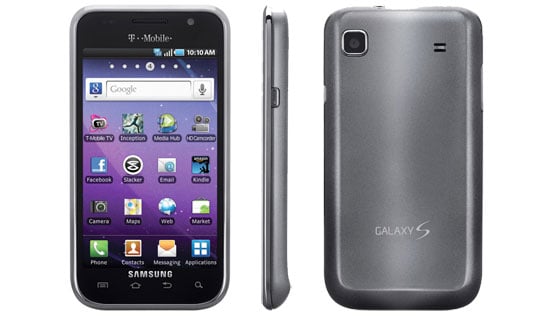 The Galaxy S 4G retains everything I loved about the Samsung Vibrant, but with an upgrades to "4G", a front-facing video camera, and a 1650mAh battery. It's certainly not a revolutionary new device, but it's a welcome update.
Beyond these changes, the Samsung Galaxy S 4G is essentially identical to the Vibrant. Because of the similarities, much of my review for the Samsung Galaxy S 4G is the same as for the Vibrant. One final difference to note, the original Vibrant comes with Avatar preloaded. The new Galaxy S 4G comes with Inception—I'll let you decide whether that is an improvement or not.
No doubt current owners of the Vibrant will be further embittered that they still haven't received the long expected upgrade to Android 2.2. It's not clear whether the launch of the Galaxy S 4G will accelerate or further postpone that process.UPDATE 2/25/11: T-Mobile has released Android 2.2 for the Vibrant. It is not available over-the-air, users must download the update using Samsung Keis software. Complete instructions can be found here. Other areas of the story have been updated accordingly.
The Samsung Galaxy S 4G comes to T-Mobile on February 23rd.
How it feels in the hand
The Samsung Galaxy S 4G is amazingly light for its size, weighing in at only 4.2 ounces. The low weight, combined with the slim profile (4.8 x 2.5 x 0.4 inches), makes the Galaxy S 4G very comfortable to hold. The glossy finish of the Vibrant backplate has been replaced by a slightly textured finish, making it more secure to hold. Otherwise, the case is identical to the Vibrant.
Build quality is a step below the HTC MyTouch 4G, but the slightly chintzier plastics provide a weight advantage (4.2 ounces versus 5 ounces for the MyTouch 4G).
Display and video content
The Samsung Galaxy S 4G continues to shine in the display department. It has the same beautiful 4-inch display (800 x 480) Super AMOLED display of the Vibrant, with rich colors (that can become oversaturated) and terrific brightness.
At the time the original Galaxy S phones came out, the AMOLED display was the leader of the pack. Soon, Samsung will be bringing its Super AMOLED "Plus" displays to market and the display on the Galaxy S 4G will be a step behind. That said, it is still a very nice display that should please almost everyone.
As mentioned above, T-Mobile is shipping the Galaxy S 4G with a full version of Inception pre-loaded.
Web browsing & mobile hotspot
Technically, the Samsung Galaxy S 4G is not "true" 4G, because it operates on T-Mobile's HSPA+ network. However, it is capable of supporting T-Mobile's newest 21Mbps HSPA+ network, which makes it the fastest 4G phone on the T-mobile block.
So how fast is it really? Well, don't expect anything close to that 21Mbps theoretical speed. In my testing in Manhattan, the Galaxy S 4G average around download speeds of around 3Mbps, with a peak of 6.5Mbps. But it was consistently 30-50% faster than the MyTouch 4G (which is can only support speeds up to 14.4Mbps) and twice as fast as the Vibrant running on T-Mobile's 3G network. Upload speeds were identical between the Galaxy S 4G and MyTouch 4G, at around 1.5Mbps, but were 3-5 times faster than the Vibrant on 3G. Depending on where you live, your results may be consistently faster (or slower).
Beyond speed, the Galaxy S 4G runs Android 2.2.1 and supports Flash web browsing.
The Galaxy S 4G can act as a mobile hotspot for up to five devices. it's easy to set up and worked great in my testing.
Camera and video recording
The Samsung Galaxy S 4G has a 5MP camera, 720p video recording and TV-out output capabilities. Unlike its competitors, but like the Vibrant, the Galaxy S 4G does not have a flash.
Shots on the Galaxy S 4G were identical to the Vibrant, and were very good, even in low-light conditions. Colors tended to be slightly oversaturated, but were more pleasing, generally, than on the MyTouch 4G.
The camera menus were not intuitive, with similar functions divided into different navigation menus. The variety of shooting modes and scene options, as well as some fun cartoon effects, were great once you found them.
The 720p video recording was fine, but I would still opt for a standalone camcorder if I were filming anything I wanted to save for posterity.
With 4G comes a front-facing VGA camera for the Galaxy S 4G. It's not the 1.2MP resolution of many of the other cameras coming this spring, but is adequate for video chat.
Keyboard and Navigation
The large display of the Galaxy S 4G allows for a nice, big virtual keyboard. I found the keyboard very easy to use and the built-in Swype made virtual typing a breeze.
Navigation was very similar to other Android phones, with seven panels, each customizable with various widgets and apps. The Galaxy S 4G was responsive, though no more so than the Vibrant (not surprising given they share the same 1GHz processor).
In general, I prefer HTC's Sense interface over Samsung's Touch Wiz. Some basic tasks, such as unlocking the screen, require much more precise movements on the Galaxy S phones and I prefer HTC's scrolling app list over Samsung's tabbed list. But these are relatively minor quibbles.
When it comes to the physical buttons, the Galaxy S 4G's touch-sensitive main navigation buttons—for Menu, Home, Back and Search—create a sleek exterior, but make touch navigation more difficult than other phones, such as the MyTouch 4G. And the side button to unlock the screen was less convenient than the front button on the MyTouch 4G.
Storage
The Samsung Galaxy S 4G comes with a 16 GB microSD card and will support up to a 32 GB microSD card. Total storage is actually less than the Vibrant, which had 16 GB of on-board memory plus a microSD card slot, but it should still be plenty of room to store your library of songs, videos and photos.
Battery life
I didn't have time to do extensive battery life testing, but my initial experience showed that the Galaxy S 4G could last through the day under normal use. The battery is larger at 1650mAh than the 1500mAh in the Vibrant, but with the Galaxy S running on "4G", it's unclear if that will lead to longer life on average.
Pricing and availability
The Samsung Galaxy S 4G will be available on February 23rd at T-Mobile for $199.99 with a new, two-year customer agreement. Wirefly already has it discounted to $139.99
.
Should you buy it?
The Samsung Galaxy S 4G and the HTC MyTouch 4G are the best phones on T-Mobile and, in my opinion, the best "4G" phones on the market. Both offer almost every feature you would expect, in a slim form factor. Neither contain the dual-core processors on many of the news phones arriving this spring, but I doubt most users will need that extra power.
If you're deciding between the Galaxy S 4G and the Vibrant, there's no question you should go for the Galaxy S 4G.
Between the Galaxy S 4G and the HTC MyTouch 4G, it's a harder call. The Galaxy S offers faster speeds, an arguably better display and slightly lighter weight. While the MyTouch 4G offers better build quality, a slightly better interface and a much lower price, only $99.99 on T-Mobile or $29.99 on AmazonWireless. It's going to come down to personal preference.
Rating: Highly Recommended
Detailed Specs
Band/Modes: 850 MHz;900 MHz;1800 MHz;1900 MHz; UMTS/HSPA+ Band I & IV
OS: Android 2.2
Weight: 4.2 oz
Dimensions: 4.8 x 2.5 x 0.4 inches
Battery: 1650 mAh
Display: 4.0" WVGA AMOLED (800 x 480)
Video: 720p HD Capture, HD Playback via TV-out or DLNA
Camera: Rear-facing 5.0 megapixel, Digital Zoom, Auto Focus
Front-facing Camera: Yes (VGA)
Processor: Samsung 1GHz Cortex A8 Hummingbird Processor
Memory: 16 microSD pre-installed, supports up to 32 GB micro SD – total memory expandable up to 48 GB

Subscribe to the Techlicious Daily Email!
Get the Techlicious Guide to Great Photography as your FREE gift!
Discussion