The Best Smart Light Bulb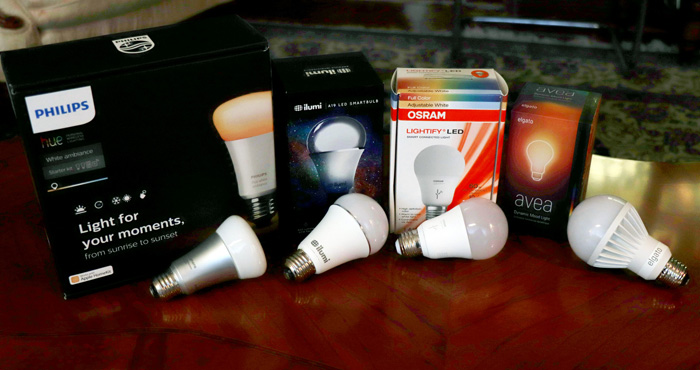 The Philips Hue is the most advanced smart light bulb, with excellent usability and extensive support for smart home systems.
Philips Hue (3rd Gen)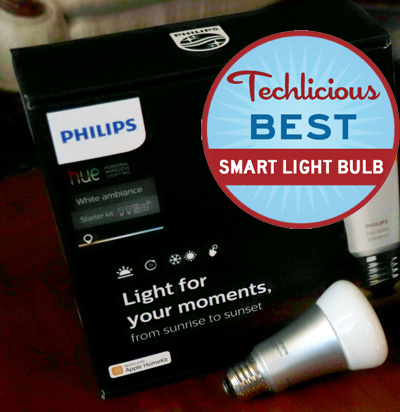 Light bulbs are simple devices. You screw a light bulb into a fixture, flip the switch, and you have light. Smart light bulbs do a lot more. They can deliver all colors of light, simulating anything from bright daylight to warm candlelight or even pink or blue for parties. You can control them wirelessly, from across the room or the world, and they can take direction from smart home devices like motion sensors and smart locks.
When choosing smart light bulbs for testing, we selected models that can produce any color of light. The bulbs all enclose the technology, so they look similar to traditional incandescent bulbs and fit seamlessly in with any decor. The bulbs can be controlled wirelessly, either via Bluetooth or Wi-Fi, and they all work with other smart home devices. And to further narrow the field, we selected bulbs that are highly rated and widely available.
In our test group were the Philips Hue 3rd Generation ($200 on Amazon for the starter kit with 3 bulbs), Osram Lightify ($54 on Amazon for the starter kit with one bulb), the Ilumi ($50 on Amazon) and the Elgato Avea ($49 on Amazon). Shining brightest among them was the Philips Hue but not by a huge margin. With a well-designed app and smart home integration, the Hue inched ahead of the rest of the pack. Its excellent build quality, consistent performance and integration options for voice or hub control illustrated how effective a smart bulb setup can be.
How we tested
We tested our top smart bulb choices over four months in two homes using both day-to-day routines as well as putting them through their paces for guests. The apps that manage and control the bulbs were a critical part of the review process.
Design
All the bulbs we reviewed screwed into standard light fixtures and could be turned on or off from a light switch or remotely using an app. To turn them on and off with the app, you'll have to get used to leaving the wall switch on to provide a power source. That does require a tricky change of habit, but that's made easier with smart home integration, which we'll touch on later.
The Hue, Lightify and Ilumi are each 60-watt equivalent bulbs capable of producing 800 lumens at peak brightness. The Avea follows at only 7 watts and 430 lumens. Their color ranges are all similar, though the current third-generation Hue bulbs can produce deeper blues and greens than previous iterations. All bulbs use the common A19 socket.
The Hue and Lightify apps work by connecting to hubs that help the bulbs talk to your home network via Wi-Fi. The Ilumi and Avea bulbs connect directly to your smartphone or tablet via Bluetooth.
The Hue and Lightify bulbs can be controlled remotely even when you're away from home. The Ilumi and Avea bulbs are limited to a Bluetooth range of about 20 feet. All the bulbs can be grouped together for unified control and synchronization.
The Bluetooth-enabled bulbs offer some automation yet lack remote access and smart home integration. In contrast, the Wi-Fi-enabled bulbs are far less restrictive about proximity, offering advantages we like a lot. Setting your lights to turn on or off when you're away from home or changing up a schedule, for example, is simply not possible with Bluetooth bulbs because their control range is limited to the same room in most cases.
Bulb operation
The Hue and Lightify lights react a little faster to your selections, probably because of the Wi-Fi connection. Bluetooth connections have less throughput, which causes a slight delay for the Ilumi and Avea bulbs. The discrepancy is hardly crippling, though, and we weren't bothered by it. Bluetooth reconnections were fairly quick, with an average range of about 35 feet. One advantage the Bluetooth bulbs have over the Wi-Fi-enabled bulbs is that they still work if the home internet connection drops for any reason.
Setup requires signing up for a free account through the app. Each brand has apps for iOS and Android devices. Step-by-step instructions for connecting to the bulbs ensure the initial setup is smooth and painless. Screw the bulb in, turn it on and then set it up through the app.
The Hue system runs through a hub called the Bridge, which plugs in directly to the router with the included Ethernet cable. The Bridge acts as a waypoint that communicates with the bulbs to distribute the router's Wi-Fi connection. The Lightify system uses a Wireless Gateway hub that plugs into a power outlet alone, generally situated between the router and the bulbs, or in the same room. The Ilumi and Avea bulbs use Bluetooth, so there is no hub or gateway required.
Setting bulb scenes
The battle was tight as we tested the provided presets designed to simulate a scene. The Hue's Tropical Twilight mixes hints of purple and orange. Lightify's Ocean lights up the deep blues of the ocean, and Avea has a scene called Cozy Flames that is supposed to look like a fireplace.
Ilumi stands out for having the most eclectic mix of presets, including unusual choices like Year of the Rooster (a nod to Chinese New Year), Candy Cane and Beauty.
Wake-up lights, night lights, concentration modes and reading lights are all options with today's smart bulbs. Select a scene with a simple tap or schedule one to turn on at a certain time for a set duration.
Compatibility with other smart home systems
The Hue system is the most advanced system of the bunch we tested, with a solid app to manage its various features, but it's the Hue's deeper integration that helps it stand out. The app has useful automated options. Wake Up can fade lights in 10, 20 or 30 minutes before the time you want to wake up. Go to Sleep does the opposite, fading lights out before sleeping. Lights can also be set to turn on or off when you come home or leave home.
The Hue is compatible with Amazon's Alexa digital voice assistant through the Alexa, Echo or Echo Dot, allowing you to control your lights by voice. Use Google Home or Apple's HomeKit for voice control through Siri. That's on top of the functionality through Samsung's SmartThings Hub, Wink Hub, Iris Hub by Lowes and Logitech Harmony Home Hub, making the Hue the most widely supported smart bulb system.
Philips' system is the only one of the quartet tested here that supports Apple Siri, Amazon Alexa and Google Home. Linking the Hue lights has to be done through the Alexa and Google Home apps. Siri can be linked through the Hue app, except only the second-generation or third-generation Bridge is compatible with Apple's HomeKit, a prerequisite for Siri integration. Alexa and Google Home work with all versions.
Voice control is especially useful for turning lights on or off. Setup is simple, and the commands are basic yet effective: "turn my bedroom lights off," for example. We used "set movie time" to turn on a dim scene for the living room lights while we were watching movies.
The Hue is also compatible with smart apps like IFTTT and Stringify, allowing the Hue lights to perform actions based on a trigger of some kind. You can set it to turn certain lights on or off based on your proximity to the home Wi-Fi network, so the lights turn on automatically when you arrive home.
It is possible to use Lightify bulbs without the gateway through a Belkin WeMo Link, SmartThings Hub, Wink Hub, Iris Hub by Lowes, Logitech Harmony Home Hub or Amazon Echo or Echo Dot. The latter requires the Lightify Gateway, SmartThings or Wink Hub. Lightify is also compatible with the Google Home unit through the SmartThings hub.
Lightify's compatibility is not quite as wide as Hue because it can't work with HomeKit, negating Siri integration. The Gateway is the simplest way to bridge integration options, though Lightify works with a handful of other hubs. Voice control is available through Google Home. Alexa used to work fine with Lightify but has recently stopped working, and it's not clear why. The Alexa app still offers Lightify as a "skill," except it doesn't function through the Lightify app. It's unknown if this issue is permanent or temporary.
Using Belkin's WeMo Link or Samsung's SmartThings, Lightify is also compatible with IFTTT. And through SmartThings, it will work with Stringify.
Ilumi and Avea are Bluetooth-based systems and don't work with any of these smart home hubs or voice platforms, nor are they compatible with the Bluetooth-enabled Echo or Echo Dot.
The Competition
LIFX is another brand currently upping its game with improved performance, particularly with its newest Color 1000 bulbs, but it looks less light a traditional bulb the others in our test group.
TP-Link has been making smart bulbs with color as well, though they don't offer much that is different from the group we reviewed here. Sengled, another up-and-comer, uses a unique flat bulb head design; while it's an interesting concept, it isn't going to have the flexibility of a traditionally shaped bulb.
Other Bluetooth-enabled smart lighting brands like Playbulb and Revogi have entered the smart bulb market recently. Playbulb even added an audio speaker in its Multicolor Smart LED bulb. Neither company offers the depth in hardware and software that Ilumi and Elgato currently have.
What Other Critics Are Saying
Reviewers online tend to agree that the Hue's advantage is its breadth. "Hue's interoperability is still its trump card. If you have a variety of smart-home gadgets, and you want color-changing bulbs that will work with as many of them as possible, Hue can't be beat," writes Ry Crist of CNET.
The Wirecutter named the Hue system the best of the 20 systems it tested.
Customers on Amazon also give the Hue high ratings, with a collective rating of 4.4 out of 5 stars.
Despite some criticism over the Hue app, the general consensus is that the Hue bulbs are excellent. Color options are commonly listed among users' favorite features. Lightify customers found the best results by bringing a hub like SmartThings or Wink into their homes to expand access and automated functions. The rating of 3.8 out of 5 stars may slide further down if the Alexa blackout continues.
The Ilumi bulbs received positive feedback from customers, but customers had plenty of criticism for the app, dragging down the overall rating to 3.5 out of 5. The Elgato Avea bulbs received good feedback at 4 out of 5 stars, despite some lamentation about the lack of features in the app.
Bottom Line
The Philips Hue system comes out as the most seasoned and advanced product among this group, with a full suite of bulbs, excellent usability and expansive support for anyone looking to smarten up their home lighting.
The Hue's support is the deepest of any smart lighting system currently available, both in terms of connectivity and third-party integration. Several third-party developers have created iOS and Android apps designed to work with Hue lights and Hue lights only. A simple search in the App Store or Google Play returns plenty of choices. The other lighting systems reviewed here simply don't have that kind of reach.
Philips Hue (3rd Gen) - The Best Smart Light Bulb
[Image credit: Ted Kritsonis/Techlicious]
Discussion