HTC Sensation 4G (T-Mobile)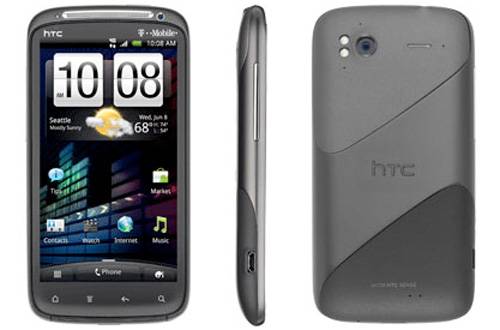 The HTC Sensation 4G would definitely be on my short list of phones to consider. It's the first 4.3" phone that is actually comfortable for me to use. And that display is very pleasant to look at, even if it may not have the brightness of the Samsung Galaxy series. The new HTC Sense interface is very well thought out, and the lock screen features are both convenient and fun.
The camera, on the other hand, was a disappointment. Not that it's a bad camera, it isn't. But it's not a great camera either, and doesn't deliver on its 8MP promise except in optimal conditions. Though I did appreciate the 1080p video quality.
Whether the Sensation is a better phone than the T-Mobile G2x or the Samsung Galaxy S 4G will come down to personal preference. They are all excellent phones, and the Sensation is certainly a worthy addition to the T-Mobile stable.
Rating: Highly Recommended
Detailed Specs:
Talk and Standby Time: Up to 7 hours talk time, up to 21 days standby
Band/Modes: GSM 850/900/1800/1900 MHz
OS: Android 2.3 Gingerbread
Weight: 5.2 oz
Dimensions: 5.0 x 2.6 x 0.44 inches
Battery: 1520 mAh
Display: 4.3" qHD LCD (960 x 540)
Video: 1080p
Camera: Rear-facing 8.0 megapixel, Auto Focus, Dual LED flash
Front-facing Camera: .3 megapixel
Mobile hotspot: Up to 5 devices
Processor: 1.2GHz Dual Core
Memory: 768MB RAM, 1GB onboard storage and 8GB microSD card (expandable to 32GB)
$199.99 with 2-year contract
Like this product?
Let your friends know:
Own it? Questions? Let us know!