Best Shopping Apps for your iPhone
Still trying to justify the expense of an iPhone or iPod Touch? How about this--it can actually save you time and money on shopping trips. iTunes is full of applications designed to upgrade your shopping experience. Here are a few of our favorites: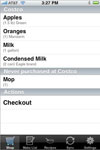 iNeedStuff ($8.99) -- Don't worry about forgetting the broccoli on your next grocery run. iNeedStuff will remember it for you. This location-aware shopping assistant will help you make your shopping list and then remind you when you're at the right store. You tap in the items you need (milk, eggs, cheese), then, the first time you're in a store to buy them, you tell the software the name of the store as you're in it. The next time you're in that location (your iPhone has a built-in GPS so it knows where you are), the app will pop up with your list. You can even make lists based on recipes. The location-aware part of the app will only work with Touch owners when they're in a Wi-Fi hotspot.
Download Now from iTunes Store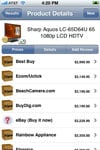 Save Benjis ($.99) -- Want to know if the store you're in is offering the best deal? Enter a product and price into Save Benjis to find out what other dealers are charging. The app will also take you to product reviews and allow you to purchase the product through a listed dealer's Web site. You can even enter the product's UPC code (those barcode numbers on the side of the box) to make sure you're searching for the correct product. Shoppers will find more than a dozen product categories including electronics, books clothing, bath, and furniture, with millions of searchable products.
Download Now from iTunes Store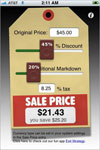 Sale Price ($.99) -- This one is basically a glorified calculator, but its simple interface and practical usage (plus it's only a buck) make it a winner. Enter the starting price of a sale item then use the slider bar to see what it really costs with the percent discount and sales tax. It also works as an easy tip calculator.
Download Now from iTunes Store
You Might Also Like...
Discussion