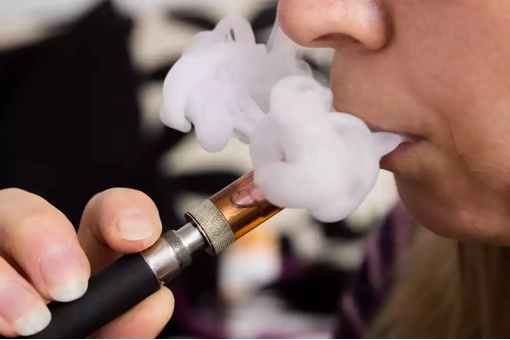 Cigarettes may have fallen out of favor with today's teens, but that doesn't necessarily mean they've stopped using tobacco products. According to the Center for Tobacco Products' 2014 National Youth Tobacco Survey, more teens are getting their nicotine fix from e-cigarettes than regular cigarettes for the first time ever, resulting in a year-over-year net increase in teen tobacco users.
In the study, more than 4.6 million students in the U.S. reported having used a tobacco product within the past 30 days, including e-cigarettes, hookahs, cigarettes, cigars and smokeless tobacco. These tobacco users represent approximately 1 out of every 4 high school students and approximately 1 out of every 13 middle school students. A total of 2.4 million reported using e-cigarettes, making them more popular than hookah (1.6 million), cigarettes (1.6 million) and cigars (1.4 million).
The survey shows that e-cigarette use is up dramatically over the past few years. In 2011, only 1.5% of high schoolers admitted to using e-cigs. By 2014, that number had risen to 13.4% -- a nine-fold increase in three years. Over the same time period, teen use of cigarettes decreased from 15.8% to 9.2%.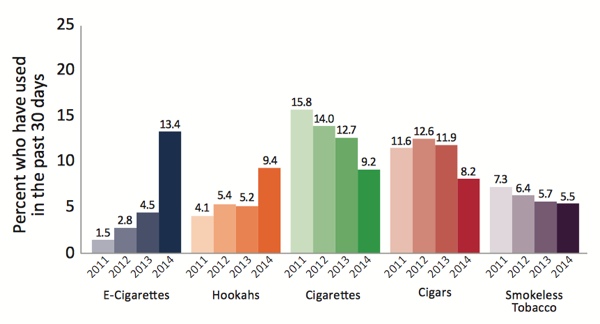 At first, teens' preference for e-cigarettes may sound like good news – they're widely viewed as safer than regular cigarettes because they lack the harmful smoke and tar of their ignitable cousins. Still, questions remain about just how safe vaporizers and e-juice are. A 2014 study in the journal Nature showed that e-cig vapor affects bronchial cells in a way similar to cigarette smoke. E-cigarette vapor can also include cancer-causing impurities like diethylene glycol. And, of course, nicotine remains an addictive stimulant no matter how you choose to get the drug delivered.
You can view the results of the 2014 National Youth Tobacco Survey at the FDA website (PDF). For help quitting, check out these smartphone apps that can help you beat tobacco addiction for good.
[Woman using an e-cigarette via Shutterstock]