By Tara Settembre, Eden Pontz and Suzanne Kantra
Kids from 18 months to 18 years will love our Techlicious holiday gift suggestions. And, grownups will want some quality play time, too, with these toys, games, robots and more!
Hasbro Play All Day Elmo
The new interactive Sesame Street Play All Day Elmo toy actually participates in playtime thanks to 150 canned responses on top of eight games and activities to keep kids engaged.
It has two modes of play for both younger and older children. In toddler mode, young children can enjoy basic cause-and-effect play like tickling Elmo or squeezing his nose to see how Elmo might respond. In preschool mode, kids can actually play with Elmo and do pat-a-cake, freeze dance, Elmo says (like Simon says), Red Light Green Light and more.
This most playful Elmo toy to date will surely be a popular holiday present. It's also soft and cuddly and larger than previous Elmo dolls.
Age: 18 months – 4 years
Price: $42.99 on Amazon
Tiggly Words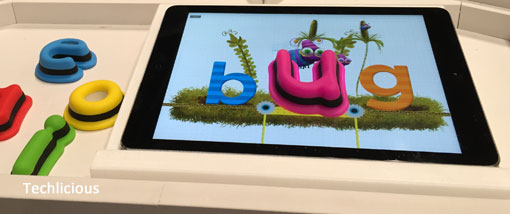 With Tiggly Words, Tiggly has applied its expertise in blending hands-on play with learning apps to the challenge of teaching kids how to read. Tiggly focuses kids' attention on the all-important vowels by making them hands-on pieces. The other letters play a supporting role onscreen in activities that range from constructing words to solving silly problems. Tiggly Words works on iPhones and iPads.
Kids will also enjoy Tiggly Math, which introduces counting, addition and numberlines to kids ages 3-7.
Age: 4-8
Price: Tiggly Words: $24.29 on Amazon, Tiggly Math $24.65 on Amazon
VTech Spinning Lights Learning Hippo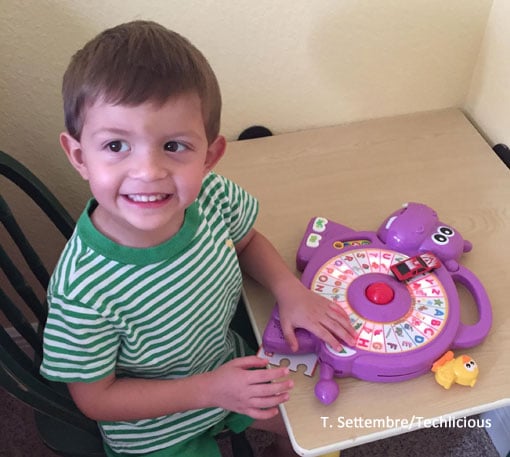 A new spin on a classic toy, this first vocabulary builder uses moving lights with six fun activities for language development. Kids can spin the lights around the alphabet circle to learn about letters, phonics, objects, animals and more. In music mode, they can move the rolling ball to add five fun sounds effects and 26 cheerful melodies. Kids will love the music, and parents will love that this toy helps children learn their alphabet. My toddlers were repeating new letters after playing with this toy for the first time.
The Learning Hippo is light and has a sturdy handle that makes it easy for kids to carry. Parents will appreciate the volume settings located on the back. Best of all, it's likely to be the most reasonably priced item on your gift list this year.
Age: 18 months – 4 years
Price: $19.99 on Amazon
Vtech Go! Go! Smart Wheels Ultimate RC Speedway
Vtech brings remote control track racing to the toddler crowd. The easy-to-use two button remote lets kids drive the RC SmartPoint Racer forward and backwards and engage track elements, like the car elevator. The playset can be expanded with any of the 35 compatible Go! Go! Smart Wheels playsets available at launch.
Age: 3 and up
Price: $39.99 on Amazon
Matchbox Treasure Tracker
Every child dreams of finding buried treasure. Now, Mattel is aiming to make it a reality with its Matchbox Treasure Tracker. The truck has a built-in metal detector that can find small objects buried in up to around six inches of sand (the final metal detector specs are being finalized). The detector turns on when the treasure sensor is lowered, and kids will know they've hit the jackpot when the truck beeps and flashes red. The Treasure Tracker's truck bed detaches and doubles as a scoop and sifter—the perfect tool for digging for buried find.
As cool as the product itself is, we were equally impressed by the very reasonable proposed price of $29.99.
Age: 3 and up
Price: $25.86 on Amazon
ThinkFun Maker Studio Construction Sets
With 3D printing becoming more affordable, it's no surprise that it's found its way into one of our picks for the Best of Toy Fair. ThinkFun's Maker Studio Construction Sets, available as a Gears (shown), Propellers or Winches Set, are designed to help kids experiment with concepts such as torque, propulsion and friction. And each set comes with 10 engineering challenges ranging from building a biplane to a motorcycle to a crane in combination with common household objects.
Cool, right? But it gets better. ThinkFun is opensourcing all of its parts and new expansion pieces and plans to make them available as free downloadable 3D printing files. That means the sky's the limit with these construction sets.
Age: 7 and up
Price: Gears: $19.99 on Amazon, Winches: $19.99 on Amazon, Propellers: $19.99 on Amazon
LeapFrog Epic and LeapPad Platinum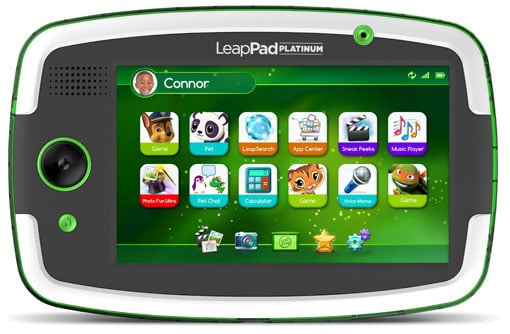 Younger kids with iPad envy will love the newly launched, kid-friendly tablet from LeapFrog that offers a safe digital experience that adapts as your child grows. The touchscreen Epic tablet offers LeapFrog's most advanced 7-inch LCD screen, along with a powerful quad-core processor, an Android-based operating system, 16GB of memory and vivid 2MP cameras.
Unlike other LeapFrog tablets, game cartridges are not compatible with this device. Instead, you'll download new content wirelessly just like you would for grown-up Android tablets. Out of the box, the Epic includes 20-plus apps (Wi-Fi, a parent account and device set-up are required to access all included content).
The idea of apps for little children might sound scary, but every app is Leapfrog-certified to ensure there are no in-app purchases, no harmful third-party ads and only age-appropriate experiences. Stay in control of what your child can access online with the LeapSearch browser, which lets you manage what, when and how long each child plays with best-in-class parent controls for up to three profiles.
If you're looking for a tablet that's not Android-based and possibly a better choice for younger children starting off with their first tablet, check out the all-new LeapPad Platinum. It's easier for kids to navigate, but it's bulkier than the Epic. The Platinum comes with built-in games to play off the bat; game cartridges are required for additional content, and content cannot be downloaded.
Age: 4 and up
Price: LeapFrog Epic: $128.00 on Amazon, LeapFrog Platinum: $98.54 on Amazon
Wonder Workshop Dash & Dot Robot
Meet Dash and Dot, your child's first robot friends and taste of coding. Unlike virtual pets of the past, Dash and Dot guide kids through the world of coding, programming and problem-solving via hundreds of exciting adventures that allow the devices to move, dance, light up, make sounds, avoid obstacles and more. It's the perfect STEM (Science, Technology, Engineering and Math) gift to foster these important skills in young kids.
These robots aren't visually intimidating, but rather cute. They're controlled through a free compatible app available on iOS and Android tablets or smartphones. Although older kids can do more with the app, young kids can still have a ton of fun with this toy. Oh, and no batteries — just charge it!
Age: 5-9
Price: $49.99-$199.99 on Amazon
Laser Maze Jr.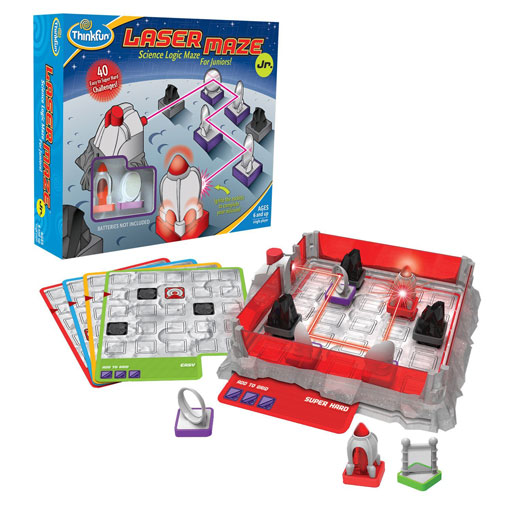 Your mission: Expertly transport the laser beam to the rockets so that it can safely return to Earth! With 40 high-tech challenges from easy to super hard, kids will need to use science and logic to reflect the laser beams by placing the satellite mirrors to guide them on the appropriate path.
Younger players can experience the fun of the award-winning Laser Maze game with an age-appropriate design and challenges for grade school children. It's safe and fun for kids, but tweens will especially go ga-ga over the real lasers.
Age: 6 and uip
Price: $29.95 on Amazon
Crayola Color Alive Easy Animation Studio
Crayola makes it easy for kids to create their own animated characters and stories with Color Alive Easy Animation Studio.
The kit comes with a coloring book with characters that range from a fairy to a super hero that become the star of your child's animation. Once your child has finished coloring in their design, it's time to animate them. Kids manipulate the mannequin that comes in the box into a series of poses. Then, the app uses its Smooth Action Technology to create the motion between the poses for a fully animated video.
Age: 6 and up
Price: $19.97 on Amazon
Lego Minecraft The Snow Hideout
If you have trouble pulling your children away from playing Minecraft, Lego's Minecraft the Snow Hideout is a great way to get them building a new part of their virtual world in reality. With 327 pieces, this Minecraft-influenced Lego set features a snow shelter to help protect your child's newly mined coal and survive a snow-covered landscape.
The set includes a Steve mini-figure as well as assorted mini-accessories including a pickaxe and shovel, crafting tables to support and form snow blocks for your hideout and a bucket — how else to transport the lake water to make those ice-block windows? The hideout also has a door that swings, a fireplace and chimney as well as several torches. Your child can also build a Snow Golem that has mini-cannons for arms that shoot "snowballs" and a Creeper that has its own exploding function.
With a little imagination, your child can rebuild the set to make different Minecraft creations or combine this set with others in the series as part of a larger Lego Minecraft world.
Age: 8 and up
Price: $34.76 on Amazon
Spin Master Sick Bricks
This Techlicious Award Winner stands out for its gameplay and personality. The tiny brick figures are similar to Activision's Skylanders Swap Force characters, with tops and bottoms that can be mixed and matched to form new characters with new capabilities.
But Sick Bricks doesn't stop there. You can bring monsters, vehicles and items into the game by capturing a picture of it while playing the game. Want to see it in action? Watch the video demonstration of the gameplay above.
Sick Bricks will work with iOS and Android smartphones and tablets at launch. A total of 70 characters are available.
Age: 8 and up
Price: $2.49 for a Single Pack, $3.99 for a Double Pack and $8.99 for a Power Up Playset on Amazon
View-Master Virtual Reality Starter Pack
With the View-Master Virtual Realty Starter Pack, Mattel has taken a retro toy and modernized it for kids who want their first virtual reality experience. Remember the toy that let you shuffle through photo discs that allowed a sense of 3D pictures of nature, space and even cartoons? Today's version offers a 360-degree environment that lets kids feel as if they're in the middle of what they're watching.
While it's not free or quite as low-cost as Google Cardboard, View-Master's Virtual Reality Goggles are designed to be comfortable against your child's face, with a combination of soft rubber and hard plastic to keep them durable.
View-Master has made it easy to download a View-Master VR app, slide a smartphone into the viewer, and let your child immerse themselves in some virtual reality. It's compatible with the Google Cardboard app, which you can download to expand your child's experience options.
The starter pack comes with a preview reel (reminiscent of those original discs) to check out available apps. Experience Packs are sold separately and include topics such as Explore Space, Explore Wildlife and Explore Destinations.
Age: 9 and up
Price: $29.97 on Amazon
Wow Wee MiP Robot Rev Toy
If the idea of combining fast remote-controlled cars and AI technology that allows those cars to think and fight for themselves would appeal to a kid you know, then the MiP Robot Rev Toy will make for fun driving this holiday. These Robot Enhanced Vehicles (REV) From Wow Wee are built for battle, both virtual and literal.
Each REV Starter Kit comes with two vehicles that are Bluetooth- and app-enabled and hardwired to outlast their opponents. The cars are equipped with proprietary technology that uses small sensors to sense and track their surroundings and navigate in real time. Players download the free app onto iOS or Android smart devices that act as a remote control and monitor.
You can choose single-player mode (the second car is set to Autonomous) to face off against a series of AI characters that drive by themselves or multiplayer mode to play against multiple human or AI-controlled cars. Game modes include Chase and Evade, Capture the Flag and free-for-all. With some additional real-life detail integrated into the gameplay, your car becomes "damaged" in battle and stops handling as well until you fight to gain power back or start a new game.
The REV does not require any special surface, mat or track and navigates most carpet, hardwood and tile floors with ease. Each car requires four AA batteries (not included).
Age: 9 and up
Price: $73.30 on Amazon
New Nintendo 3DS XL
Before the smartphone came the handheld game system. Nintendo put itself on the handheld map with the Gameboy back in the late '80s. But with its latest handheld device, the New Nintendo 3DS XL, the company brings portable gaming to a new level. Although the device appears similar in design and capabilities to its predecessor, this handheld console has new features and functionality that will have kid gamers happy to play wherever they may be.
One of the biggest changes is a stable facial tracking technology that helps gamers see things more clearly despite crazy onscreen action. If you move your head or the console around, it only takes a second for the scene to realign for easier viewing. Games now load almost twice as quickly, and a newly designed C Stick offers enhanced control.
The console comes with built-in amiibo figure compatibility well as NFC support and plays all Nintendo 3DS games. Whether kids want to play games like Super Smash Bros. alone or connect with other players, thanks to a new 4G micro SDHC card, they can easily share data.
Other features include an improved camera and up to seven hours of battery life per charge. (Note, no charging cable is included.) Parental controls can be used to restrict the 3D mode for children age 6 and under.
Age: 9 and up
Price: $199.99 on Amazon
Nerf Rebelle Secrets & Spies Arrow Revolution Bow Blaster
While kids anxiously await the final film in "The Hunger Games" series, "Mockingjay Part 2," their play remains inspired by Katniss Everdeen and her archer's skill. Perhaps that's part of the popularity behind the Nerf Rebelle Secrets & Spies Arrow Revolution Bow Blaster.
Take aim with a colorful bow that has real bow action and shoots arrows with foam tips. A rotating quiver allows for loading up to six arrows at a time. New arrows drop into the arrow bay with the pull of a trigger on the high-tech auto feed, so the next shot is ready to go.
The bow action includes notching the arrow, drawing back the string and releasing it, sending the arrow shooting into the air. A sight encourages lining up shots, and arrows may be shot as far as 85 feet away.
Age: 10 and up
Price: $24.94 on Amazon
Meccano MeccaNoid G15 KS
How many kids do you know who wouldn't want a 4-foot personal robot that walks, talks, tells jokes and plays games with them? With the Meccano Meccanoid G15 KS from Spin Master, your child will have the chance to build, program and play with a robot that does all this and more.
The robot includes 1,223 parts as well as a computing engine called a Meccabrain that allows it to speak more than a thousand phrases and use a voice recognition system. This little guy rolls in on wheels with limbs powered by 10 motors that make lifelike movements and articulations.
Children can program their robots with three different programming options including a Learned Intelligent Movement, a motion capture interface that uses the camera from a smartphone placed in its chest to mirror movements. They can also control their robots through the free companion iOS or Android apps. The full kit includes a rechargeable battery and charger along with parts and tools..
Age: 10 and up
Price: $299.99 on Amazon
Amazon Fire 7" Tablet
Amazon's Fire tablet may not be fancy, but for just $50, it's got plenty of hardware to keep a kid busy without leaving a parent's wallet empty. Specs include a 7-inch, 1024 x 600 screen, front- and rear-facing cameras, a 1.3 GHz processor, 1 GB of RAM, 8 gigabytes of storage and a microSD card slot to expand storage.
Amazon claims the tablet is more durable than the iPad Air, has more processing power than Samsung's Tab 3 Lite and offers up to seven hours of battery life. The tablet runs on the latest version of Fire OS, providing access to Amazon's massive media library of more than 38 million movies, TV shows, songs, books, apps and games. Amazon Underground provides free game downloads and in-app purchases. Not too shabby for the price.
If your kid is accident-prone and you're willing to pay twice as much for some extra insurance, consider the new version of the Fire Kids Edition tablet. It comes with a protective bumper-style case and a two-year replacement guarantee — no questions asked if your child breaks it. It also comes with perks like a year's subscription to Amazon Free Time Unlimited, which gives you access to a library of more than 10,000 kid-friendly books, movies and TV shows. Parental controls allow you to set limits on both screen time and content.
Age: 10 and up/ 3 and up for Fire Kids Edition
Price: Fire 7" $49.99 on Amazon, Kids Edition: $99.99 on Amazon
Cheerson CX-10 Mini 29mm Quadcopter RC Pack
Drones are hot, and while the 2015 New CX-10 Mini 29mm Diameter Gyro RC Quadcopter by Cheerson may be tiny, it holds its own in the flying fun department.
The CX-10 is described as the smallest quadcopter in the world, and with a 1.14-inch diameter, it sits lightly on your fingertips. The radio-controlled quadcopter has a flight time of about seven minutes and a charging time of an hour.
The drone has three flight modes — beginner, intermediate and advanced — set by pressing the throttle in the transmitter. Once you get the hang of it, the CX-10 can do some quick and impressive tricks for such a little device, including flips. Now in a new orange color, the CX-10's six-axis design helps make the copter's gyroscope adjustable and promotes stability.
And just because the sun goes down early this time of year doesn't mean you have to stop playing. LED lights in red and blue allow you to keep flying after dark. The CX-10 is It's considered quite sturdy, especially for the price, but be sure to practice your flying before re-calibrating it to the advanced modes.
Age: 12 and up
Price: $16.62 on Amazon

Swagway X1 Hands-Free Smart Board
Forget the bus, because here's the new, cool way to get to school. Combining the fun of skateboarding with the ease of a hands-free motorized scooter, the Swagway X1 Hands Free Smart Board lets your child (or you!) cruise into the future without having to do most of the hard work.
Dual-action motors respond to body movements, allowing the Swagway to quickly adjust balance. Operation is fairly simple. By shifting weight forward, you accelerate. Shift backwards and you reverse. A shift right or left lets you turn right or left.
LED lights go on as you put pressure on the footpads, helping you get noticed and stay safe on the sidewalk.
It may take a few minutes of practice to get moving, but in no time, your child could be performing turns and tricks. This lighter model features zero-degree turning and climbs up to a 15-degree incline. It has a maximum speed of 12 mph and gets approximately 20 miles per charge (less if you're moving at maximum speed all the time).
Inside or out, this is one gift that will have the kids screaming with delight. And compared to other brands on the market, the price will delight as well.
Age: 12 and up
Price: $399.99 on Swagway.com
[image credits: ThinkFun, Vtech, LeapFrog, Mattel, Wonder Workshop, Lego, View-Master, Wow Wee, Hasbro, Nintendo, Amazon, Meccano, Cheerson, Swagway, boy opening present via Shutterstock ]