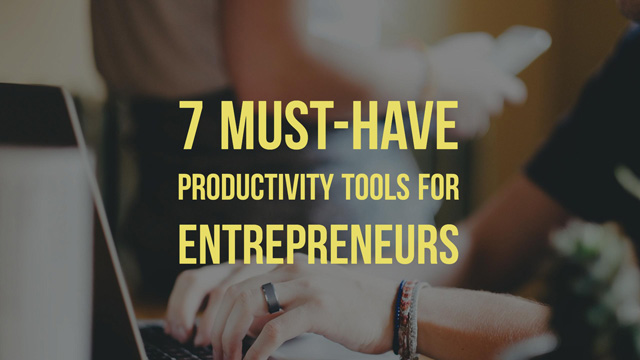 Just because you're an entrepreneur running a small business doesn't mean you can't have productivity tools that will be every bit as good as what the big companies use, without costing you an arm and a leg. These seven apps and services will take your customer outreach to the next level, while enabling you and your team to work more efficiently, with better coordination.
1. Make killer social graphics with Adobe Spark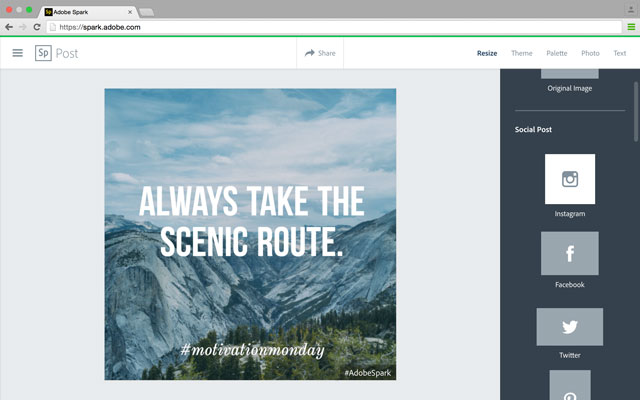 Social media can be a huge driver of awareness and sales. And many studies show that using images with your social media posts significantly increases engagement. But if you're not a master of design, creating compelling images for Pinterest, Instagram, Facebook and Twitter can be a challenge.
Adobe Spark helps you take your photos to the next level with typography worthy of an experienced designer. Spark doesn't require you to have top-notch design skills to get top-notch design results. You pick from pre-made templates and customize your project to look exactly the way you want. Keep it simple or let your creativity run wild: and then easily share your creations on your social channels.
Spark is available for free on the web or as an app for iPhone and iPad—sorry, Android users, but you'll have to access Spark online for now.
2. Backup and share your important business files with Dropbox
One of the biggest challenges for a small business is keeping your critical files safe, while also collaborating with team members across the office or across the world. That's where cloud storage service Dropbox comes to the rescue.
With Dropbox, you can sync business files—documents, images, videos—across multiple computers and access them from anywhere through the web. And you can selectively share folders, so not everyone gets access to all the files. And Dropbox encrypts your data while en route from your computer and stores it encrypted on their servers to keep it safe from hackers.
Accounts are free for up to 2 GB of storage and $9.99 per month, per user, for up to 1 TB.
3. Easy client invoicing and expense tracking with FreshBooks
Carefully managing revenues and expenses is key to any business. FreshBooks makes it easy to send professional invoices to clients and track your payments. You can also track your expenses by linking Freshbooks with your bank account and credit cards. Generate Profit & loss statements when you need them and when tax time comes, get a full summary for your reporting.
Subscriptions start at $12.95 per month for up to 5 clients, with plans available for businesses of all sizes.
4. Centralized email and calendars with Google Apps
From email addresses with your own domain name, to synchronized team calendars, to shared document storage, Google Apps is what you need for the foundation of any small business. And all of it is accessible via the web and through standard Google apps like Gmail and Calendar. Plus, the centralized administration function lets you stay in control of it all.
Starting at $5 per user/month for the complete suite, you'll wonder how you ever did things without it.
5. Manage all of your social media with Buffer
Social media is all the buzz, but trying to manage social accounts for your business across Facebook, Twitter, Pinterest and Instagram can be a real buzzkill. Buffer greatly simplifies the process by making it super simple to publish your content across multiple accounts and schedule your posts for when your audience will be most engaged.
Starting at only $10 per month, it's worth tweeting about.
6. Get your newsletters out the door with Mailchimp
For all the buzz about social, email is still the primary way most people stay in touch (Can you name a single person who doesn't use email every day?). And a professionally designed email newsletter is the perfect tool for communicating with your customers.
Mailchimp makes it drag-and-drop simple to start engaging your customers with your own custom newsletter. Everything you need to design, send and track your communications is available through the Mailchimp dashboard. And you can use their widgets on your site to capture new signups for your mailing list.
Mailchimp is free for lists up to 2,000 subscribers and has modest pricing plans even as your lists grows into the millions.
7. High-quality conference calls from Vast Conference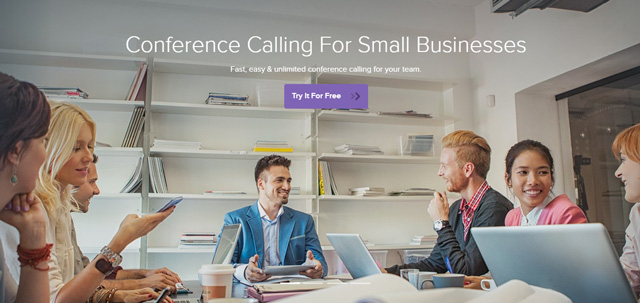 You conduct your most important business over the phone, and there's nothing more frustrating for you and your clients than a poor quality conference call. People zone out or, worse, misunderstand what's being said. That's why it's so important to have a top notch service like Conference Calling by Vast Conference for your calls.
With Conference Calling, you can host an impromptu conference call for potential clients whenever you need to without pre-scheduling; just call your dedicated conference number and enter your conference code to start a call. And if you're hosting a PR event for press, an informational webinar, or any meeting that requires a formal structure, Conference Calling offers the option of operator-assisted conferencing. A professional operator will welcome and identify callers, ensure call quality and manage the Q&A, ensuring your event takes place without a hitch.
Other features that will help your small business operate like one of the big guys include:
Custom greeting: Personalize your conference call with your own welcome message.
Web controls: You can see who has joined, who is talking and manage callers, so you can ensure your client is on the line before you get started and temporarily mute that person who's dog is constantly barking in the background.
Call Recording: Instantly record a conference call to listen to later or send on to team members who couldn't make the call.
Screen Sharing: Present to potential clients and share key information with remote team members, no matter where they are in the world.
Conference Calling starts at just $19 a month, and you can take advantage of a a free, unlimited 14-day trial on the Conference Calling website for a risk-free way to see how the "Best Conference Call Service" will help you present the most professional image for your business.
[Image credit: Adobe, cloud computing via Shutterstock, Vast Conference]