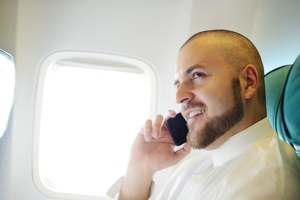 Last week, the Federal Communications Commission (FCC) voted to clear the way to lift the ban of cell phone calls in airplanes. But don't get out your Rolodex just yet: Major airlines are making it very clear that cell phone use is a nuisance and will not be welcome on their flights.
Earlier today, Delta Air Lines CEO Richard Anderson announced that despite the FCC ruling, it would continue to prohibit cell phone calls on domestic flights. "Our customer research and direct feedback tell us that our frequent flyers believe voice calls in the cabin would be a disruption to the travel experience," he stated. "Delta will not allow cellular calls or internet-based voice communications onboard Delta or Delta Connection flights."
Delta's announcement comes on the heels on a similar one from Jet Blue this weekend. "We've heard from many customers and the majority have shared that they do not want voice or video calls allowed onboard," the company said in a statement Saturday. "We currently do not allow customers to use VOIP onboard. Our inflight team will enforce this as they would enforce any other onboard policy."
Of course, you can't use your phone's standard dialer to make a call at 30,000 feet. But major wireless carriers like Verizon are rapidly moving towards a future where calls are instead routed through data networks. And with higher speed in-air WiFi coming next year, a voice call in the air could be as easy as buying in-flight WiFi and using the Google Hangouts app or Skype.
As someone who just had to deal with a nightmarish cross-country plane flight myself, I'm glad to see that airlines are taking the initiative to ban calling before the practice becomes widespread. Dealing with yapping dogs and other peoples' misbehaving kids is bad enough, you know?
[Businessman speaking on cell phone via Shutterstock]