It was only last week that we learned Facebook was working on an alternative to its existing Facebook mobile app. It's called Paper, and it's making its debut this week on the Apple App Store (download link).
Paper looks and works very differently than the Facebook app you're used to. But if you're willing to give it a chance, I think you may very well fall in love. It's a design-and picture-focused experience that evokes a traditional newspaper. Even gestures seem more natural. Everything just seems to come together in Paper to make Facebook more pleasant to use.
But enough talk. Let's open up Paper and take a look at the app in action.
Paper: An experience divided in sections
When you use Paper for the first time, the app will ask you to choose sections to be included in your virtual newspaper experience. The Headlines section, for example, will be populated with the day's top news. The Flavor section, meanwhile, will feature recipes and other content suited for a gourmand. There are 20 sections in all, each filled with trending items.
To add a section to your Paper experience, simply drag the section card from the bottom of your screen up to the top. You can add as many sections as you'd like, and can arrange them in any order. Don't stress over your selections – you can easily add or remove sections later if you wish through the app's menu.
Using the App
You'll quickly notice that the Paper experience tends to split your device's screen in half. Swipe your finger back and forth on the top, larger image, and you'll switch between your Facebook feed and chosen sections. Swipe back and forth on the bottom, and you'll be able to browse all the stories contained in the section. The flow is largely seamless.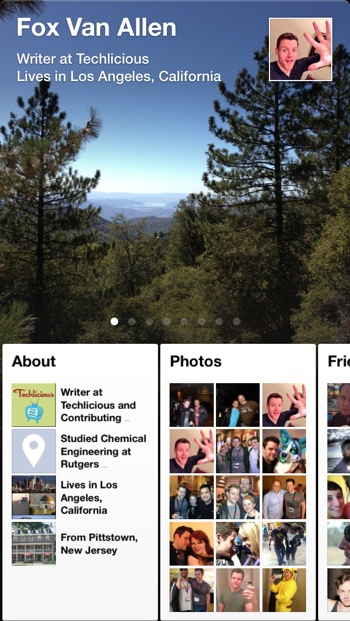 You can read a story in the lower carousel by tapping it or swiping it upward. This will bring the content full screen. From there, you can offer Likes, make comments and share the item with your own friends as you normally would. If the story contains a link, you can visit it by again swiping upward to "unfold" the link graphic. Swiping down, meanwhile, closes the immediate item you're looking at, taking you one step backward.
You can access the app's main menu by swiping down from the main Paper screen. From the main menu, you can search for specific friends or groups, access your own timeline, create a post, edit your sections and toggle settings. This is where you'll need to go to edit your Facebook privacy and sharing settings.
You can also set up "Read Later" apps in the main menu. Paper supports Pocket, Instapaper, Pinboard and Safari Reading List.
To close the main menu, swipe up from the bottom of the screen.
Timelines look terrific on Paper, and are easier to navigate than ever. Stories at the bottom of the screen are arranged in chronological order. You can quickly switch between years by swiping the top half of the screen right and left.
The Only Facebook App You'll Ever Need
I've been enjoying Facebook Paper quite a bit on my iPhone over the last day. And certainly, I'm not alone: Website after website after website has offered the Facebook Paper app glowing reviews. I'm ready to delete my standard Facebook app (which I truthfully never liked) and put Paper into full-time service.
Have you downloaded Facebook Paper yet? What are your thoughts on Facebook's newest app?