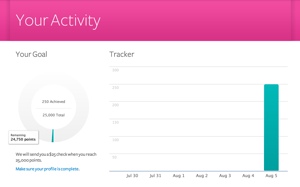 I've been into health and fitness for about a decade now. Going to the gym and eating right is just a natural part of my life now, but starting those types of good habits wasn't easy – especially for a former fat kid such as myself.
In the years since I've gotten in shape, a smartphone revolution has taken place. You can now download any number of fitness apps to track your running, give you access to virtual personal trainers and monitor your diet. To encourage you to use these apps together to optimize your results, San Francisco-based startup AchieveMint rewards your healthy efforts with cold hard cash. No, really.
AchieveMint is a web-based program that asks you to create an account to link your daily app use to. Once you sign up, it tracks your use of fitness applications you've already got on your phone, such as Runkeeper and Fitbit. Any time you do something healthy – say, jogging down Main Street or going for a mall walk – you're rewarded with points. Once your account reaches 25,000 points, AchieveMint sends you a check for $25.

Points are slow to accumulate, but that's OK. Fitness is a long-term goal; a habit that you need to embrace to see results. And that's true whether you're hoping to see progress on the scales, in the weight room or in your bank account. You can speed up the process by linking your Facebook, Twitter, and Instagram accounts – AchieveMint awards you up to five points for sharing "healthy information."
The app is fairly liberal with what it considers healthy, but that's by design. As AchieveMint says, "good health isn't just about exercise and diet." Check into a health food store on FourSquare, and you'll be rewarded with points. Even Liking an article about good eating, health or fitness on Facebook gets you closer to your 25,000 point goal.
The biggest downside to AchieveMint is that you need to sign over your privacy to them. After all, the company needs to make up for all those $25 checks somehow, and they do that by aggregating your fitness data and selling it to interested parties. In Achievement's Terms, the company clearly states in regard to Third Parties, Sponsors and Business Partners, "Neither your PII (personally identifiable information), nor individual Demographic Information, nor Performance Information (fitness goals and progress toward those goals) will be shared with such sponsors and promotion partners." Of course, this is something that Facebook, Twitter and even your phone company do on a regular basis — at least with AchieveMint, you get a cut of the action.