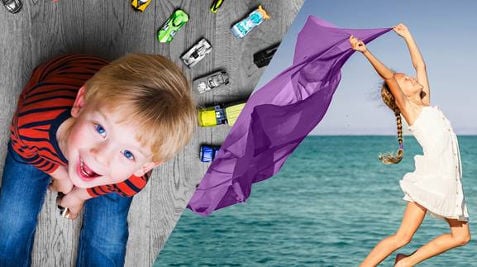 The photo and video editing wizards at Adobe just released the latest and much improved versions of the Adobe Photoshop Elements and Premiere Elements applications.
Version 14 of the Adobe suite comes with a streamlined and quicker Elements Organizer. The updated People view now recognizes faces faster and more accurately, even with obstructions such as sunglasses blocking the face. Pre-clustering allows photos of the same face to be grouped together, so you can more easily find photos based on face.
Photoshop Elements 14 now applies Special Effects more intelligently. Where they used to be uniformly applied in earlier Photoshop Elements versions, the Special Effects function suggests the five most appropriate effects after it has analyzed your photo. A more visual Guided Editing function shows you the preview of an edit if you hover the mouse over the image. New editing features include aspect ratio correction, optimizing for social media, motion blur (for adding streak effects to photo subjects so that they'd appear as if rapidly moving), one-click haze removal for older photos and those with too much backlighting (especially sunsets), shake reduction for lessening the blur caused by camera shaking and others.
Premiere Elements 14 comes with a new audio timeline view to show your audio's waveform, giving you better precision when slicing your audio and video clips. If you've grown weary of static titles, you can spice up your video projects with drag-and-drop motion titles. And you can add slow- and fast-motion effects to your clips.

The Black and White Color Pop feature (shown above), a big hit in earlier Photoshop Elements, has found its way to Premiere Elements 14. It makes one or more selected colors stand out while rendering the rest in black-and-white.
The video editing program can also open and edit 4K Ultra High Definition videos and can export easily to many different video formats through the Quick Export tab.
You can buy Photoshop Elements 14 or Premiere Elements 14 for $99 each on Amazon (or upgrade your existing copies for $79.99). Or, you can buy the two as a bundle for only $149.00 on Amazon (or upgrade your existing bundle for only $119.99). Adobe also offers the software bundle to students and teachers for only $79.99.
[Image credit: Adobe]