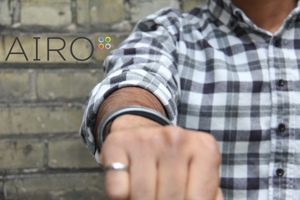 We've covered a lot of different activity trackers here at Techlicious, from the Fitbit Force smartwatch/fitness tracker hybrid to the SMART RUN watch for serious marathon runners. But fitness isn't just about staying active, it's about nutrition, too. No tracker currently on the market is smart enough to know if you're eating right – or, at least, not smart enough to know without extensive data input from you.
But that's about to change thanks to a new startup called Airo Health. The company has developed a activity-tracking wristband called the AIRO which claims to measure not just exercise activity, but your stress, sleep and nutrition information too. And it does so automatically simply by monitoring your body.
How? Well, the AIRO has a built-in spectrometer, a device that measures the properties of light. According to Airo Health, the wristband uses "different wavelengths of light to look into the blood stream and detect metabolites as they are released while and after you eat. This allows AIRO to measure caloric intake and even the quality of meals consumed, providing recommendations on ways to improve nutrition."
Of course, as a fitness monitor, AIRO helps track your activity levels as well. Along with its pedometer, the wristband monitors your heart rate and exercise intensity. It also aims to improve the quality of your sleep and keep your stress levels down through constant tracking and reporting of your biometrics.
AIRO won't ship until Fall 2014, though Airo Health is offering the device at a discounted pre-order price of $149 (regularly $199). Of course, if you can't wait – and really, good health isn't something to put off – you may want to check out these five tech products ready to help you reach your fitness goals now.
To learn more about AIRO, visit the Airo Health website at getairo.com or watch the promotional YouTube video below.