Very rarely do I try a new recipe. Who's got the time? Sure, that Martha Stewart risotto recipe looks delicious but I don't have saffron, dry white wine or shallots in the pantry and my work schedule leaves me absolutely uninterested in tromping all around the grocery store gathering seldom-used ingredients for a one-time meal.
But then I tried Blue Apron. It's a subscription ingredient and recipe service that once a week ships to your door a box full of all the ingredients and recipes for making three healthy and gourmet meals.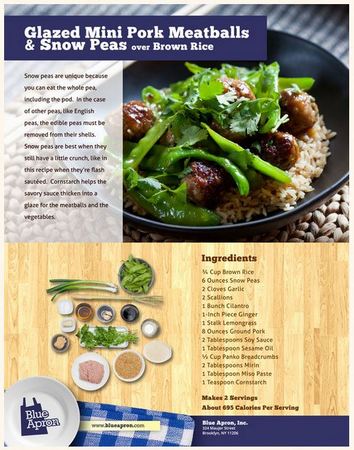 The recipes—such as Tilapia with Shallot-Tarragon Butter over Corn and Japanese Eggplant or Marjoram-Garlic Chicken with Jersey Tomato Panzanella—are original and created by Matt Wadiak, chef and co-founder of the Brooklyn-based company. They're printed in color on letter-sized card stock full of photos so even novice culinarians can successfully pull off impressive meals.
My husband, for example, made Glazed Mini Pork Meatballs and Snow Peas over Brown Rice. This is a guy who wouldn't know lemongrass if it fell from the sky and hit him on the head. Plus, if you told him to go buy some he wouldn't be able to find it in our small town anyway.
So how does someone who doesn't know what an ingredient is know what to do with it? Blue Apron's instructions were straightforward: "Cut off the end of the lemongrass, then peel away the fibrous outer layers until you reach the white, pliable core. Mince the lemongrass core." Not only are the instructions crystal clear, a photo shows you what all the prepared ingredients are supposed to look like so even though my husband doesn't know the difference between chopping, dicing and mincing, he figured it out with Blue Apron's printed tutorial.
Servings run between 500 and 700 calories and are $9.99 each, which is a bit steep for my family considering there are six of us. The cost could be offset, however, if my husband and I gave up our weekly date night in exchange for a constantly changing repertoire of healthy meals the entire family could help prepare—unlike the burgers, hot dogs and pizza they're getting now.
While the affordability of Blue Apron is questionable for my family right now, it's perfect for empty nesters or busy young couples and also slightly less expensive than competitors Plated and Chefday.
Unfortunately, Blue Apron isn't available everywhere—yet. Currently it delivers about 70,000 meals a month to homes in the Eastern half of the U.S., but the company says it will soon be shipping nationwide.
Once you sign up at Blue Apron's website it takes about a week to start receiving shipments, and you can specify which day of the week you'd always like them to arrive. Boxes are filled with enough ice to make sure even if you're not home the food stays fresh until you do. You can choose to receive either meat and seafood or vegetarian dishes. And you can put shipments on hold (if you go on vacation, for example) or quit the service at any time.
Consider yourself a foodie? Don't miss 6 Best Cooking Apps for Your Kitchen Tablet.