Celebrate the 10th Anniversary of Amazon Wish Lists with a Nespresso D290 and Accessories!
Sponsored by Amazon
This is our second giveaway to help celebrate the 10th Anniversary of Amazon Wish Lists. You can create your own Amazon Wish List to share with friends and family at amazon.com/wishlist.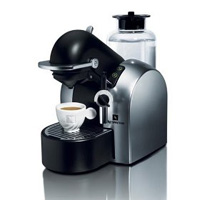 This giveaway includes a Nespresso D290 Concept Espresso and Coffeemaker
. Nespresso has developed a unique extraction system specially adapted to single-serve capsules. It controls every vital setting when preparing a perfect espresso and is exceptionally easy to use. The Nespresso D290 features:
Automatic function: 2 backlit controls for ease of programming the amount of coffee you desire (small cup / large cup)

A special automatic steam nozzle with cappuccino-café latte function for that perfect hot milk froth

Automatic ejection of used capsules

Electronic temperature regulation

Removable 34 oz water tank
The package also includes a suite of accessories to provide you and your guests with great espresso and coffee:





The total value of this package is $543!

How to Enter
To enter the giveaway, simply subscribe to the Techlicious newsletter during the contest period using the "subscribe" box on this page or any other page on the site. All new subscribers to the newsletter are eligible for the drawing. If you are an existing subscriber and would like to enter, add a comment below using the same email address you subscribed with. Maximum of one entry per person.
The giveaway will end at 11:59pm on December 19, 2009.

Official Rules
We will randomly select one (1) winner from the entries. No purchase is necessary to win. Void where prohibited. U.S. residents only. Click here for the full rules.