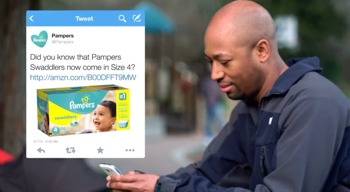 Online retail giant Amazon today announced a new feature called #AmazonCart, a way to discover and add products to your Amazon shopping cart while using the Twitter social network.
To use AmazonCart, you'll need to enable it by linking your Twitter account to your account on the Amazon's website. Then, when you see an item on Twitter with an Amazon.com product link, you can add it to your cart on Amazon by replying to the tweet with the hashtag #AmazonCart.
It's important to note that you're not buying the item when you use AmazonCart, you're merely adding the item to your Amazon shopping cart. You'll receive a reply tweet when an item is successfully added to your cart, and of course, you can delete the item from your cart before purchasing if you change your mind.
This probably isn't the coolest feature to come out of Amazon lately – that honor probably goes to the company's new discount Amazon Prime Pantry nationwide grocery service. Still, having a way to add a must-have item to your Amazon cart without having to visit Amazon can be a nice time saver.
To learn more about #AmazonCart, visit amazon.com/AmazonCart or watch the short promotional video below.