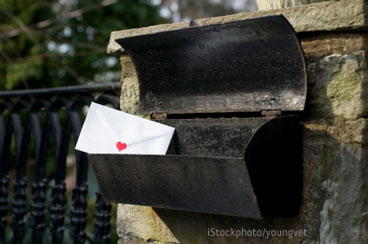 What's more exciting than getting real mail? Ok, a lot of things, but it is pretty great to get an actual card or letter. Something you can't accidentally delete. With Valentine's Day right around the corner, there's no time like the present to merge your love of technology, your love of genuine mail and your love of a loved one. Several apps on Android and iOS platforms offer programs where you can design and mail a legit Valentine's card or postcard from your phone. You simply set up an account, and pay the postage with your credit card. For a low, low price, you'll get beautiful paper, cool designs and even your own photos. We break down the various apps for you.
This is a beautiful and simple application. Red Stamp has the most options for cards, with over 30 for Valentine's Day alone. Other categories include love, thank you, support, invites, baby announcements, holidays and more, with custom photo or without. The graphics are modern and fun, and the interface is a no-brainer. It took me less than 10 minutes to pick a postcard and mail it. You can select the mailing addresses from you contact list, making mass mailings easy. Expect to see Red Stamp all over your mailbox next Christmas.
Price: Free in iTunes. $1.99 per card, including postage.
These cards aren't specific to any one holiday, but since it is a postcard of one of your photographs, you can make it whatever you want. Upload your favorite pic from a romantic Paris trip and send it as a Valentine. With over 400,000 downloads, and rave reviews for the product and quality of service, this is a charming way to share photos and reach out to loved ones. At 1-4 days for production and delivery in the UK and US, they have the fastest turnaround time, as well keeping a history of your cards, and offering mass mailings.
Price: Free in Android Market and iTunes for iPhone and iPad $1.49 per card, including postage.
Cards offers pretty and elegant letterpress designs for thank you notes, holidays, baby announcements, birthdays and Valentines. It's an actual card with an envelope addressed in refined script. It's relatively intuitive to use, and most of the cards are photo cards, with customized texts, but the selection is limited and despite offering international mailing options, it couldn't find a Canadian address I've mailed to dozens of times. Also, you have to resend your card over and over again instead of mass mailing, which isn't ideal for announcements or holiday cards.
Price: Free in iTunes. $2.99 per card, including postage.
Sincerely Ink has loads of modern, fun designs. They have a large Valentine's selection, including photo cards, traditional Valentine's cuteness, and graphic concepts. Their cards run the full gamut of holidays and sharing opportunities, including engagement cards. Ordering is very straightforward — I did so on my iPad in less than 10 minutes, including a photo. Sincerely Ink has also teamed with Cartolina Postale to offer romantic, vintage designs that would be lovely for Valentine's or to send from a trip abroad. All cards can be mass mailed and are printed on heavyweight, glossy card stock.
Price: Sincerely Ink is free in Android Market and iTunes. Cartolina Postale is free in iTunes. $1.99 per card, including postage.