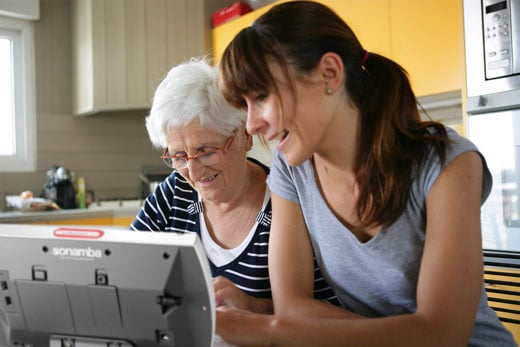 Those of us with older relatives living on their own often wonder how they're doing during the day, but only so many visits or phone calls are practically possible. To quiet these concerns, pomdevices has introduced a new product called Sonomba that provides ongoing daily monitoring and communication, and does it without being intrusive.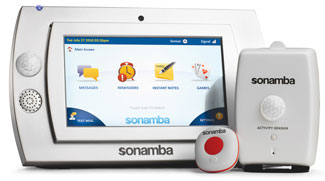 The standalone Sonamba device has a 7-inch LCD screen and a cellular network connection, so it's easy to set up without requiring an Internet connection. Built-in sound and motion sensors monitor activity and compare it to normal patterns in the home. For example, if your relative ordinarily gets up by 9 am and there's no activity by that time, an alert is sent to up to three caregivers via text message.
In case of emergency, the Sonomba includes a "panic button" that can be worn or attached to a wall, immediately alerting caregivers and, if there's no response from them, calling 911. However, unlike dedicated personal emergency response systems we've reviewed, there is no live monitoring service.
Medication and appointment reminders can be programmed into Sonamba, either directly on the device or via the web or cellphone. Here again, if there's a break in routine, Sonamba will send out an alert.
While wellbeing monitoring is the primary purpose of the Sonamba system, there are several fun features as well. When not in use, the LCD becomes a digital picture frame, which can be refreshed with new images remotely. There's also a text messaging/email system built in, along with a few games.
Caregivers can obviously receive text message alerts on any phone, but full access to Sonamba features depends on a web browser or an iPhone app.
Sonamba is available for $549.99 plus a monthly $39 data plan.