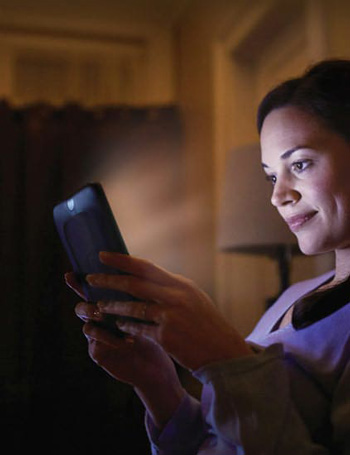 The appeal of e-ink display technology lies in the fact that it closely resembles paper, running for weeks without a charge, providing a high-contrast image that's restful on the eyes and easily standing up to direct sunlight. One of the problems has been that, like paper, it requires light to read it—the sun, a lamp, a book light.
The Barnes & Noble Nook Simple Touch with GlowLight solves this issue. With a strip of LEDs built into the frame above its display, the Nook Simple Touch with GlowLight is the first e-ink reader to work as well in a dark bedroom as on the beach.
Though the light comes from a strip of lights at the top of the display, a film channels the light across the entire display. The pre-production unit I saw did a good job illuminating the entire display, though I did notice a slight mottled quality from uneven light distribution.
The light strip doesn't severely impact battery life: With the light level set at 18-20% of the maximum, the battery will last a month (but that light level is probably somewhat lower than most people will use—I saw the display is a dimly-lit room and would have liked the light up higher). And there's no bulky battery to compensate. The Nook Simple Touch with GlowLight is actually 5% lighter than the existing Nook Simple Touch, both coming in under 7 ounces.
Barnes & Noble Nook Simple Touch with GlowLight gets an upgrade for beach readers as well with an anti-glare film. This film plus the light-channeling film reduce the contrast level to slightly below the 10 to 1 that of the Nook Simple Touch, but the difference is imperceptible.
You can pre-order the Barnes & Noble Nook Simple Touch with GlowLight now for $139 on BarnesandNoble.com, with availability on May 1, 2012.