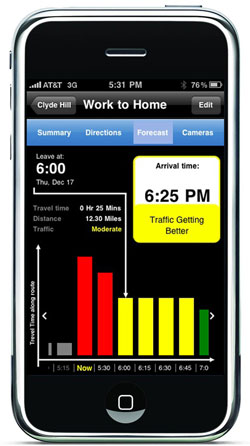 Take the guesswork out of when you should leave to make it to an appointment across town or how long it will take to get to home with a new iPhone app named INRIX Traffic! Pro that determines the best departure time to get you to your destination and how long it will take.
The calculations are made by analyzing real-time traffic information from the company's unique network of more than 1.5 million GPS-enabled vehicles and mobile devices, historical traffic patterns, accidents, road construction, and other local variables—including school schedules, sports games and concerts—along the route. Traffic Pro's "best time to leave" feature is not limited to the usual routes provided by navigation systems. It can apply the same predictive analysis to your favorite shortcuts, which it will memorize as you drive using the iPhone's built-in GPS. Moreover, Traffic! Pro's trip-length predictions are provided in 15-minute increments up to eight hours ahead, so you can make your travel plans far in advance, as well as at the last moment.
INRIX Traffic! Pro costs either $9.99 for one year or $24.99 for a lifetime subscription.