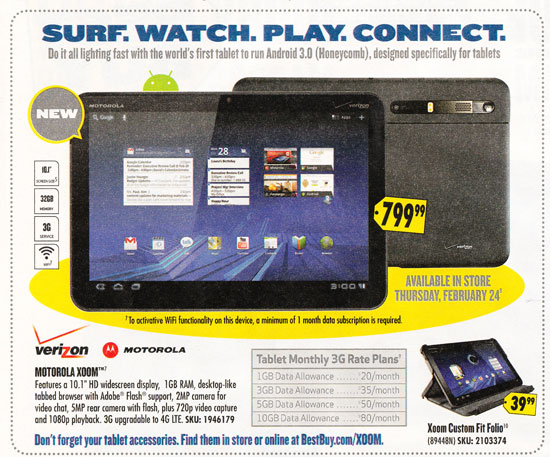 According to a flyer put out by Best Buy today, the Motorola Xoom 3G/4G will be available in stores on February 24th for $799. As previously rumored, buyers will be required to purchase at least a one month data subscription in order to activate Wi-Fi on the device. A silly requirement, but given that there will also be a $600 Wi-Fi only version of the Xoom (release date has not been announced), it's hard to imagine why anyone would buy the 3G/4G LTE version and not activate service.
At $799, the Motorola Xoom is more expensive than the 32GB iPad at $729. But feature-wise, the Xoom far exceeds the iPad with dual-core processors, microSD support for up to an additional 32GB of storage, a 10.1-inch widescreen HD display (1280x800) and a front-facing 2MP camera for video chats, as well as a rear-facing 5MP camera that captures video in 720p HD. And while the Motorola Xoom will launch as a 3G device, it will be upgraded to Verizon's 4G LTE network this summer, according to Motorola—another leg-up on the iPad.
When (if) the iPad 2 launches in a month or two as expected, we will have to see if the Xoom still holds it's feature advantage (and price disadvantage). And with more tablets coming to market from Samsung, HP and others, we'll see how long to premium Motorola pricing can hold.
UPDATE: To clarify for the comments below, we received a physical copy of the printed flyer this morning (2/19) in the New York Times. The image you see above is an actual scan we took of the flyer, it is NOT a reprint of "leaked" images other sites have previously published.