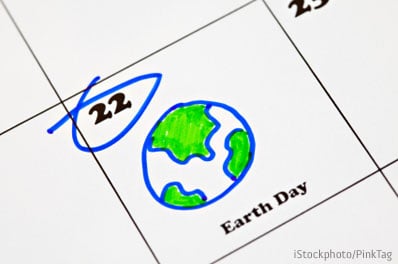 On April 22, 2012, billions of people around the world will celebrate Earth Day – a day set aside for reflecting about our impact on the earth, and just maybe move people to improve their environment. Earth Day is a great opportunity to model, share, and teach kids about issues that affect the planet, like recycling, water quality, nature conservancy, gardening, and ways to reduce our energy usage.
The web offers a host of resources to inspire you to find a way to discuss or celebrate Earth Day with your family. Here are some of the best Earth Day sites for kids.
For preschoolers and kids in early elementary, check out these PBS kids' games that expose kids to Earth Day activities like recycling, exploring the environment and more. Their EekoWorld (Environmental Education for Kids Online) site is perfect for 6-9 year olds.
Scholastic has fun student activities for Kindergartners all the way up to the eighth grade. The site has links to send Kids' Environmental Report Card eCards, an Earth Day Math Hunt Activity and Listen and Read Books that celebrate Earth Day.
Find an Earth Day event taking place near you. The Natural Conservancy is hosting family-friendly Picnic for the Planet events all around the world, and offers plenty of tips and lessons to get your family outside and enjoying an earth-friendly picnic of your own.
Disney Channel stars and Disney Nature's Chimpanzee movie are featured with video clips and ideas for kids and families to do to help the planet. You can also vote for your favorite environmental cause, take a pledge to do more and check out earth-friendly games. Friends for Change is great for tweens and teens.
This section of the Environmental Protection Agency site is geared to students with suggested activities, mini games and homework resources for learning more about the environment.