On the Amazon Appstore, there are a ton of apps that cost money on other app stores, but are free for Fire and Android devices using the Amazon Underground app store. Both Apple and Google released lists of their Top 10 Games and Apps of 2015, and Amazon has gotten in on the action, too. Here are their editors' top picks from the Underground.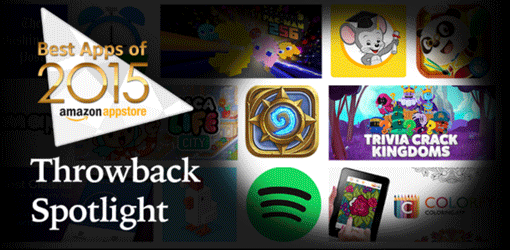 In Monument Valley, you help Princess Ida make her way through an Escher-esque, physics-bending game that won a 2014 Apple Design Award. It's normally $3.99, but both the app and in-app purchases are free from the Amazon Appstore.
The creators of the addicting app Fruit Ninja also created this fun adventure game. You play as jetpack-toting hero Barry Steakfries as he flies around avoiding lasers and missiles. Plus, you can upgrade his gear to fully deck out his jetpack.
More than 20 million people have downloaded BADLAND, and it's easy to see why: this sidescroller takes you through a beautiful, yet trap-filled forest through 100 levels. As an added bonus, you can play with up to three of your friends in multiplayer mode although you all have to use the same device.
If you've ever changed the lyrics to Beyoncé's "If I Were a Boy" to "If I Were a Goat" (although, you might want to see a doctor if you have), this game is for you. You are literally a goat in this game, and the goal is to destroy as much stuff as you can. One of its listed Features is "MILLIONS OF BUGS! We're only eliminating the crash-bugs, everything else is hilarious and we're keeping it." The app developers certainly have a sense of humor.
Star Wars: Knights of the Old Republic (Free on Amazon Appstore)
Choose to be a Jedi or a Sith in this role-playing game and play as a Droid, Wookiee or seven other customizable characters. This prequel game to the original Star Wars trilogy should tide you over until The Force Awakens comes to Blu-ray.
This party game is one of the most fun I've ever played, and you don't even have to have a board to use it. Pick a team and then pick a deck, from Celebrities to Animals to Characters. You then put your phone on your forehead to try to guess the word that appears on the screen as a teammate describes it. Usually, additional decks cost money, but this Amazon Underground version comes with in-app purchases free.
[Image credit: Amazon]