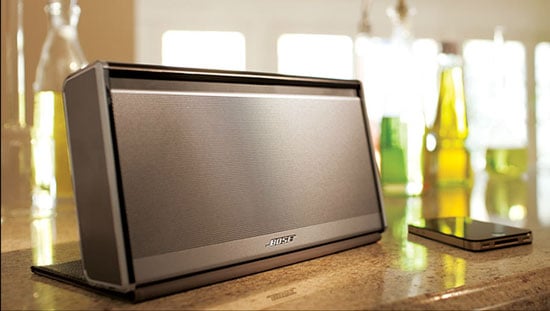 Bose has added a new portable model to its selection of iPhone/iPod touch speaker docks, the SoundLink Wireless Mobile Speaker. Distinguished by its diminutive size and light weight––5.1-inches high, 9.6-inches wide and 1.9-inches deep, and less than three pounds––the SoundLink Wireless Mobile Speaker is significantly smaller and lighter than Bose's other mobile speaker dock, the SoundDock Portable. In addition, the new SoundLink Wireless Mobile Speaker introduces a first for Bose: a palette of fashion colors.
Conveniently, the SoundLink uses Bluetooth to wirelessly pair with any Bluetooth-enabled smartphone or tablet. The six most-recently-used Bluetooth audio devices are retained in the SoundLink's memory for quick re-pairing and startup.
Inside the SoundLink are four low-profile neodymium transducers to reproduce mid- and high-frequency sounds, and newly developed dual-opposing passive radiators (similar to those used in Bose's Computer MusicMonitor speakers) to reproduce low notes and eliminate vibration.
Because of its smaller size, the SoundLink will not match the audio frequency range or maximum volume of the SoundDock Portable, concedes Tim Saeger, vice president of Home Entertainment Product Development at Bose. Nevertheless, Saeger says, the SoundLink still will achieve what Bose describes as "full-range audio"––a contention I found believable in my own listening test at the Bose press conference today, where I played Michael Jackson's Billie Jean streaming to the SoundLink from a Bose-supplied iPad.
The replaceable lithium-ion battery will fully charge in three hours and provide eight to 10 hours of continuous audio playback at normal listening volumes, or three to four hours of continuous audio playback at maximum volume. (Operating the device while it's plugged in to an electrical outlet is an option, too, of course.)
On the outside, end-caps made from automotive-grade chrome resist scratching and improve durability against accidental drops. The enclosure is sealed to resist environmental threats at a beach, including salt-water fog, sand, wind and moisture.
The SoundLink comes with a metal-reinforced folding cover (available in nylon or leather) that switches the device on when it's opened to become a stand and switches the device off when it's closed over the front speaker grille.
Two versions of the SoundLink are available now in Bose stores and other authorized retailers. A "standard trim level" model ($299.95) comes with a dark gray Cordura nylon cover and matching trim, and the LX model ($349.95) comes with a dark brown leather cover and silver trim. Accessory covers are available, too; nylon covers in bright red or purple are priced at $29.95 while leather covers in burgundy or tan cost $49.95.