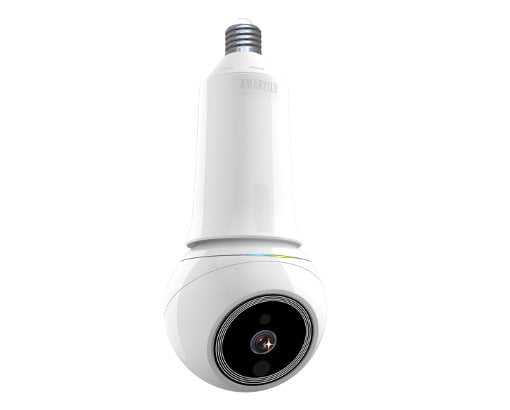 Home security monitors keep an eye on your home, especially when you are away. Both wired and wireless options usually need to be attached to the wall or ceiling or placed in a prominent position in the room. Amaryllo's wireless iCamPRO Deluxe offers a new twist: It screws into any standard lightbulb socket.
The iCamPRO Deluxe camera looks like most other security cameras, but it plugs into any standard lightbulb socket for quick, painless installation. Well-informed thieves have learned to avoid being in the line of sight of home security cameras. They carefully determine where cameras may be located and try to stay out of range during the break-in. But a security camera that looks like a lightbulb can be easy to overlook.
But discretion isn't this security camera's only advantage. The iCamPRO Deluxe detects faces and automatically tracks potential intruders. Its motion sensor detects movement up to 9 meters (30 feet) away and turns 360 degrees to keep the moving subject in view. It notifies you and sends a time-stamped snapshot of the subject. You can also set the system to sound an 82-decibel alarm if the detected face is not in its database of recognized faces — quite a deterrent for intruders.
Through the companion mobile app (for devices using iOS 7 or higher and Android 4.1 or higher) or through a Web browser, you can actively monitor a tracked moving object by zooming, tilting or panning the camera remotely using a Wi-Fi network. The camera can record up to 1080p Full HD (30 fps) videos. Recordings can be stored in a microSD card (up to 32GB) or through the Amaryllo cloud storage service.
Get the iCamPRO Deluxe in either black or white for $299.99 from Amaryllo. Your purchase comes with a free 8GB microSD card. Orders will begin shipping in April. Subscription to the Amaryllo Cloud service starts at $9.99 per month.
Visit iCamPRO Deluxe for more about Amaryllo's newest product for home safety and security.
[Image credit: Amaryllo]