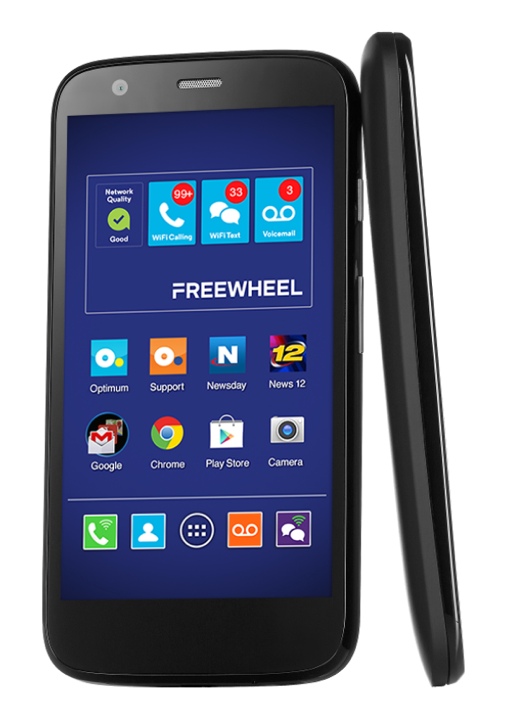 For many of us, Wi-Fi networks are ubiquitous. We're connected at home, at work, at the neighborhood coffee shop and while shopping at the mall. With nearly 80% of all smartphone data usage now happening over an available Wi-Fi network, the question has to be asked: Do we all really need cellular service with an expensive 4G LTE data allowance?
Cablevision is betting that some people, in fact, don't. Today, the ISP took the wraps off a new service named Freewheel designed to replace your mobile carrier. Freewheel offers a Wi-Fi-only smartphone service with unlimited talk, text and data over any available network – including a shared multi-carrier network of 300,000 Wi-Fi hotspots nationwide.
Freewheel is designed to be a low-cost alternative to your existing carrier. While a single line on Verizon might cost you near $75 per month, Freewheel service starts at just $9.95 per month for existing Cablevision broadband customers. Those without Cablevision service can sign up at the higher rate of $29.95 per month. International calling is available at an extra cost.
The benefits to Freewheel are obvious – you can place as many calls as you'd like and send as many texts as your fingers can muster, using your home data network rather than a mobile one. Plus, there's no long-term contract to sign. It makes a compelling choice for the most price-sensitive of customers who almost always find themselves around a Wi-Fi network, such as dorm-dwelling college students.
Of course, the drawbacks to being limited to just Wi-Fi calls are significant. With Freewheel, you can't access mobile networks at all, so if your car breaks down in the middle of the woods or you need emergency services, you're hosed. You're also in trouble if your home experiences a power outage and your router goes dark. Freewheel is further limited by the fact that it works with only one smartphone – the (now $99.95) Motorola Moto G – which you'll need to purchase up front.
Freewheel service will be available for purchase nationwide starting next month. For more information, visit Freewheel.com. To find out how to make free phone calls over Wi-Fi without monthly fees, check out the free Google Voice.
[Image credit: Freewheel]