If you hate the concept of haggling with a new car salesman, but want to get the best deal on a new car, CarWoo! may be the perfect solution. CarWoo! is an online service that gets dealers to bid against each other to give you the best price on a new car, while keeping your identity private.
How it Works
Once you decide what car you want, you enter your choice into CarWoo!, along with preferred options, color, and your zip code. CarWoo! doesn't help you pick a car, so you'll need to use other sources to come to a decision.
CarWoo! will send your request out to multiple dealers in your area, so they can start bidding for your business. CarWoo! claims a network of more than 3,000 dealers and in our testing in the New York City area most of the dealers were represented.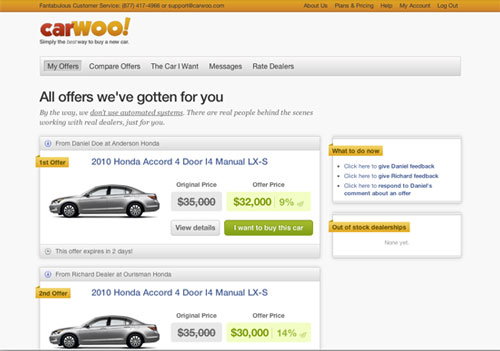 Built in commenting lets buyers and dealers communicate directly, but only when the buyer wants. The buyer's personal information is not revealed until he or she has selected the offer they want, so there is no risk of high pressure calls from salespeople.
If you get stuck during the process, or have any questions about the information you're receiving from dealers or financing options, such as leasing, CarWoo! has a 24/7 customer service line.
Once you settle on a price with a dealer, you print out your CarWoo! claim certificate and take it to the dealer to complete the transaction. If you have any issues when you get to the dealer, call up CarWoo! and they will help you resolve them. Dealers know that if they try to play games they risk being shut out of the CarWoo! network.
How it's priced
There are two CarWoo! pricing plans to choose from. A "Basic" plan ($19) will submit your car choice to multiple dealers for bids, but requires you to manage the back and forth negotiation process (though still anonymously). The "Plus" plan ($49) takes the negotiation process out of your hands. Dealers see the other bids on the CarWoo! platform and compete against each other directly.
If you're serious about buying a car, this is a small price to pay for the convenience of not having to negotiate with multiple dealers directly and, in theory, should more than pay for itself in savings.
It still pays to be prepared
Though the CarWoo! solution is a great tool for managing the negotiation process, it still makes sense to do your pricing homework first. When buying a new car, the dealer cost should always be where you negotiate from, never the manufacturer's suggested retail price (MSRP). For most vehicles, the MSRP is an artificially high price that dealers use to offer you big "discounts", while still pocketing big profits.
Sites such as Edmunds.com will provide you information on the dealer's actual cost for the car, including any manufacturer-to-dealer incentives, along with a "True Market Value" for what the car typically sells for in your area. Your goal should be to soundly beat the True Market Value since CarWoo! is making you a far savvier shopper than the average new car buyer.