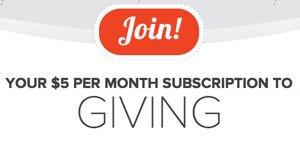 Earlier today, I was reading a story about Ed Denst, a 77-year-old homeless ex-Marine who made a $250 charitable contribution to an organization that helps people on the verge of becoming homeless themselves. Certainly, Denst could find a use for that money buying food, clothing or shelter, but instead he gifted it to the Society of Saint Vincent de Paul Council, the Catholic charity that helped feed him for 19 years.
The article really made an impact on me because I've been that guy who's said, "I can't make a donation today, money is pretty tight." Clearly, though, even small donations can make a difference. And that's precisely the operating principle behind CharitySub, a website I've just discovered and fallen in love with.
At its most basic level, CharitySub helps give those of us with just a little bit of cash a way to pool charitable donations with other users. The site will charge $5 to your credit or debit card on the first of every month, depositing that money in your CharitySub account.
Each month, CharitySub picks three charitable organizations to showcase on their site, all working toward the same larger cause. This month features three groups looking to stop domestic abuse: inMotion, which provides legal aid; Jersey Battered Women's Service (JBWS), a local organization that provides safe housing and counseling; and the Rape Abuse & Incest National Network (RAINN), a 24/7 helpline for assault victims. Previous months have aided Hurricane Sandy victims, veterans, and the homeless. You then read through the descriptions of the current month's charities or watch brief intro videos to decide which of the three groups you'd most like to donate to. Just click the "Give" button next to any charity, and you'll gift them your $5.
Here's what I like about it: You only donate a small amount each month, but all our small charitable contributions get bundled together to make a big impact on those in need. Cooler still, you get to see exactly how those donations get used, and see exactly how many people's lives were changed by your good deed. And if you're looking for a neat gift idea, CharitySub also offers gift cards – you can give someone the power to change the world.
To get started with CharitySub, you'll need grab your credit card and head over to their website. If Ed Denst can do it, we all can.