Giveaway sponsored by Cisco
Congratulations to Linda from Winchester, CA for winning the Cisco Valet!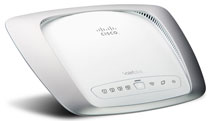 If you have a child graduating from college who will soon be living on their own, or you want to set up a wireless in your own home but have been putting it off because of the complexity of setting it up, the Cisco Valet line is for you.
Cisco® is pairing its wireless technology leadership with Flip Video's simplicity-in-design approach to launch Valet™ -- a breakthrough new product line that makes home wireless simple and accessible for everyone.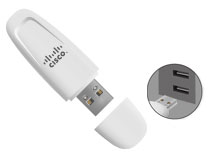 Quick Set-Up and Simple Management
Valet is the first wireless product line to make it simple for anyone to set up and manage their own home wireless network. Getting started with Valet is incredibly easy. Consumers simply insert the included USB set-up key right into their PC or Mac and the Cisco Connect software takes over. Unlike other wireless products that require 20 to 30 complicated steps to set up, Valet takes only three steps from start to finish. The Valet set-up key retains all set-up information and can be easily inserted into additional home computers to add them to the home's wireless seamlessly.
Personalized Wireless Experience
Once set up, Valet gives you a simple way to manage your home wireless experience. The included Cisco Connect software makes it easy to: 1) add additional devices to the network, 2) set parental controls, 3) provide Internet access for guests on a separate guest network and 4) customize personal security settings such as passwords.
Valet also provides a new level of control for parents with simple tools to manage their family's online experience. Valet's Cisco Connect software lets parents easily set controls on the fly, so they can modify web usage for certain days and times of the week, or even for temporary periods. If teens are spending too much time on social networks or game systems, for example, parents can modify their wireless access so that they cannot go online after 9:00 pm on weeknights. Internet access for each personal device connected to a Valet - from a computer, to a gaming system, to a smartphone - can be individually controlled or changed as needed for the particular child or teen, including blocking inappropriate web content.
In addition, Valet makes it easy to set up wireless access when friends or family come to visit. With a completely separate wireless connection, guests can use their laptops or mobile phones around the house, while the main Valet home network remains secure and private.
Enter the Cisco Valet Wireless Router giveaway for a chance to win your own Cisco Valet ($99.99 MSRP)!

To enter for a chance to win:
First, subscribe to the Techlicious newsletter using the "Subscribe" box on this page or any other page on the site—be sure to provide your name, city and state when subscribing and a valid email address (the same one used for your comment)
Then, tell us in a comment below why you want the new Cisco Valet!
Maximum of one entry per person. The giveaway will end at 11:59pm on May 21st, 2010.

Official Rules
We will randomly select one (1) winner from the entries. No purchase is necessary to win. Void where prohibited. U.S. residents only. Click here for the full rules.