Remember playing with Teddy Ruxspin? Twister? Scrabble? While I want my children to be familiar with the classic toys and games I grew up with, I don't expect the classic version to always be the best choice for my kids—or me. So I was pleased to find that Hasbro has re-imagined some of my favorites. Best of all, these newer toys come with many more features to help promote learning and to keep little ones from growing tired of them too quickly.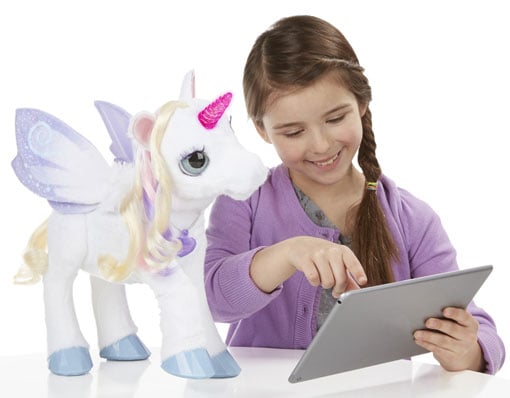 StarLily, My Magical Unicorn from the Hasbro's Furreal Friends line is an interactive toy that features more than 100 sound and motion combinations. StarLily responds to people touching her hair, horn, cheeks, and chin. The animatronic unicorn combines gestures and movements of the head, neck, wings and feet along with spoken phrases to offer over 100 different responses that are slowly unlocked as the child plays with her. The toy comes with a sugarberry treat to feed her and her glowing horn changes colors depending on her mood! It would be hard to get bored with all those features, plus kids can bring her to life on-screen using the companion app. And at the end of a long day, StarLily is soft and furry for cuddling. Ages 4+, Price: $95.99 on Walmart.com.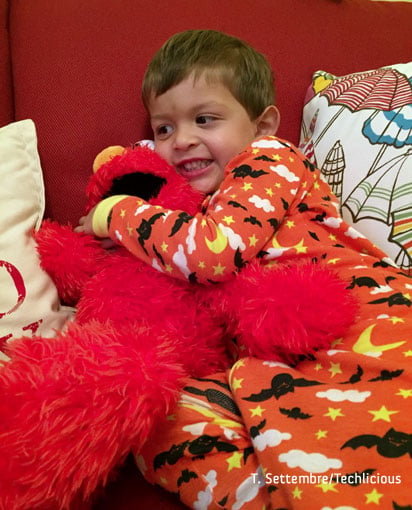 Another amazing animatronic toy this year is the PlaySkool Sesame Street Play All Day Elmo. This all-new Elmo interacts with kids through 150 programmed responses and plays eight different games and activities to keep kids engaged. It has two modes of play. In toddler mode, young children can enjoy basic cause-and-effect play, like tickling Elmo or squeezing his nose to see how Elmo might respond. In preschool mode, kids can play games with Elmo, including pat-a-cake, freeze dance, Elmo says (like Simon says), Red Light Green Light and more. Play All Day Elmo is soft, the perfect size for hugging and not as big as or heavy as past Elmo animatronic toys. Age: 18 months – 4 years; Price: $42.99 on Amazon.
Beyond interactive dolls that encourage imagination, there's nothing like toys that help let out some energy and play together.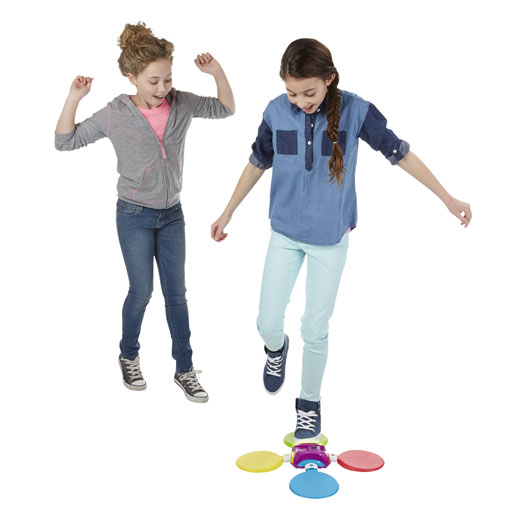 Follow the lights, hop on the spots and keep up with the beat, with the electronic dance game Twister Moves Hip Hop Spots. It reminds me of Simon, but for your feet. There are four different levels to play, and new beats to follow at every level. If you can keep up with the beats and lights, you'll unlock new levels, ranging from beginner to pro. Choose your level when you start the game or once you've mastered three songs in a level, you automatically move to the next. The game can be used with the Twister Moves Tracker activity tracker, which keeps score (sold separately for $9.98 on Amazon). As a parent, I love that this game gets kids moving and can be played solo or with a friend. It's also a game that I wouldn't mind joining in on. Tweens will especially love that singer Demi Lovato teamed up on this Twister Moves product and can be seen on the packaging. Ages 8+, $24.99 on Amazon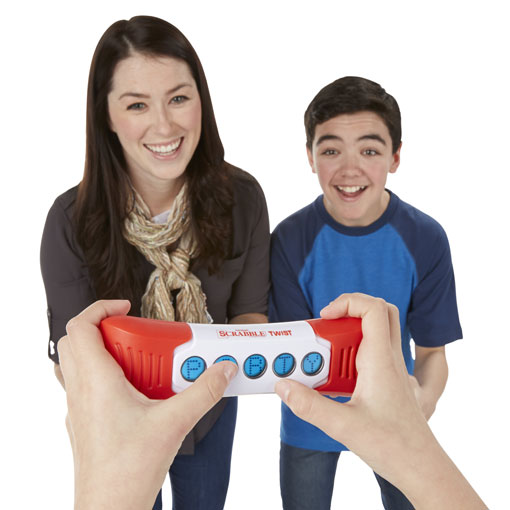 The classic board game Scrabble also gets a new twist from Hasbro, quite literally as it's called Scrabble Twist Game. The handheld game unit displays 5 letters at a time. Just tap and twist to create and bank words. There are three types of play and room for up to seven other opponents too, so it's great for big families or parties. Scrabble Twist saves the highest stored scores, which is perfect for competitive families like ours. Want to start a new competition? You can clear all scores from memory with the reset button on the back. With no pieces to lose, this game is perfect for car trips or simply sticking in a backpack. Ages 8+ Price: $14.98 on Amazon
[Image credit: T. Settembre/Techlicious, Hasbro]