Each September, gearheads converge on Berlin for the annual IFA electronics show. IFA, which stands for, International Internationale Funkausstellung, was first held in 1924 and is Europe's premier showcase for what will be on sale in electronics stores this holiday season, including appliances. Here are our favorites from this year's show.
The lightest 15-inch laptop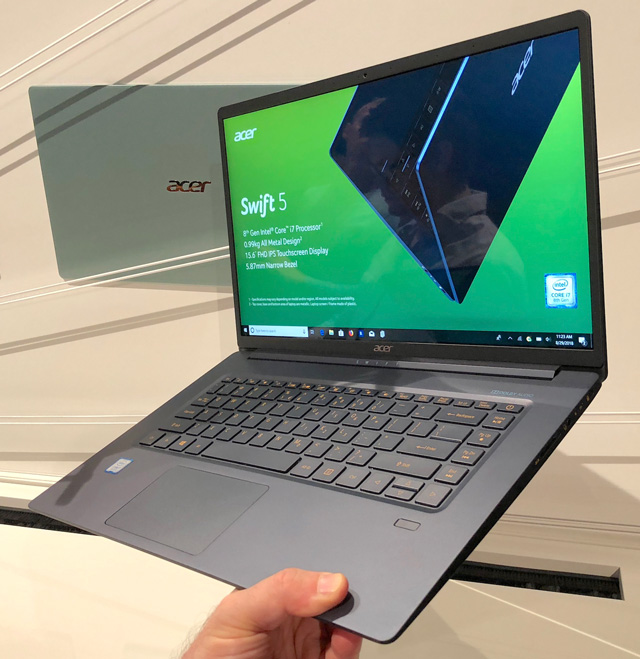 Acer's new Swift 5 laptop is cool because it solves a real-world problem – the need for an ultra-light 15-inch laptop. At a mere 2.2 pounds – the lightest in the world – the 15.6-inch touchscreen Swift 5 (model SF515-51T) can easily be lifted and held with one hand (as you can see), which means a much less shoulder strain after a day of schlepping it all over creation. It also will take up a lot less room in your bag; its narrow bezel means it's about 10 percent smaller than most comparably-sized laptops and is less than a quarter of an inch thin. To achieve its feather-weight and trimness, the Swift 5's covers are composed of magnesium-lithium alloy and its palm rest is magnesium-aluminum for sturdiness and durability. You can choose from a powerful eighth generation Intel Core i7 or i5 processor. It will be available in January 2019 with configurations starting at $1,099.
Noise-canceling headphones you can temporarily turn off by holding the ear cup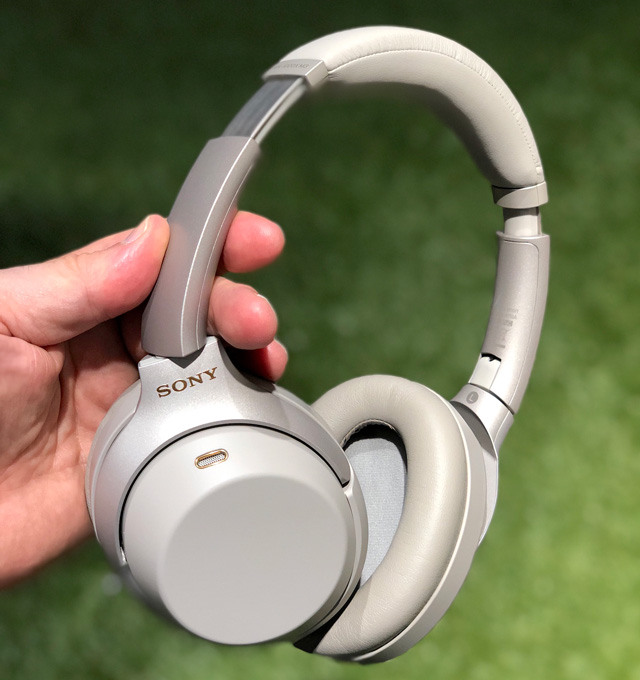 The best way to isolate yourself from the world – other than locking yourself in a closet – is to don a pair of noise-canceling headphones. Sony has increased your isolation quotient with its new Bluetooth WH-1000XM3, which go on sale this week for $349.99 (check price on Amazon). Rather than just on-off noise canceling, the M3 gives you Adaptive Sound Control, which automatically compensates for ambient sounds. Even better, placing your hand over the ear cup reduces the volume to enable you to conduct a conversation without removing the headphones. You get 30 hours of noise-canceling listening, and QuickCharge delivers five hours of use with just 10 minutes of charging. At some point, a firmware update will make the M3 Amazon Alexa compatible.
Nostalgic Marshall stage amp Bluetooth speaker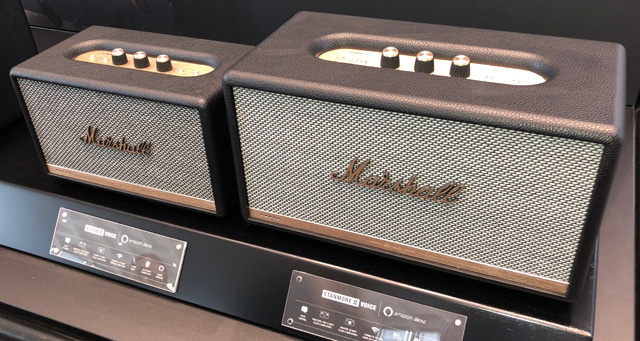 Rockers of a certain age cherish a certain nostalgia for Marshall stage amps. The folks who own the brand understand this, which is what makes its new Wi-Fi/Bluetooth smart speakers so cool – they're essentially miniatures of the company's famous stage gear. Coming this fall are two Amazon Alexa-endowed models, the Stanmore II Voice ($399, October 2, 2018), equipped with twin 15-watt tweeters and a 50-watt tweeter, and the smaller Acton II Voice ($299, November 9, 2018), which also employs twin 15-watt tweeters and a 30-watt woofer. Google Assistant versions of each are scheduled to be available at the end of the year.
Pocket-size two-way talking translator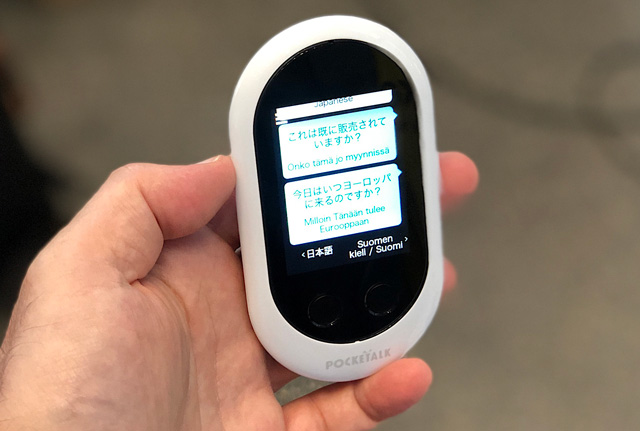 A smartphone with a translator app is really handy for language-challenged travelers, but who wants to hand their phone to a stranger? And, if you're using the translator frequently, you can end up with a drained battery halfway through the day. The new palm-sized Pocketalk is a dedicated translator equipped to translate 74 languages which it pulls from the cloud, both speaking a translation and displaying it on its LCD screen. Thanks to just two buttons, it's also quicker to use than trying to find a translation app on a smartphone, and will work for six hours straight, which means weeks of translation with real-world intermittent usage. Pocketalk will come in two versions, both on sale October 10, 2018: a Wi-Fi edition ($249), and a cellular model ($299) that includes two years of cellular service.
A high-tech love note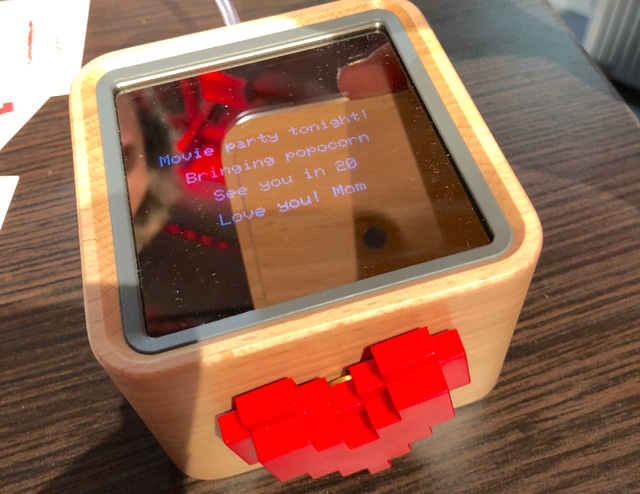 Leaving little letters for a loved one on a kitchen table or pasted on the fridge is sweet, but boring. Lovebox ($99) adds some cute tech to the mash note effort. Designed by in France, where they know a thing or two about l'amour, Lovebox a small wooden keepsake box with a red wooden heart on the outside and a screen under its lid. You send a note to the box via the Lovebox app and, upon receipt, the wooden heart begins to spin, alerting your loved one that your amorous entreaties await. For an extra $15, you can add a paper or gold heart.
Pod-based yogurt maker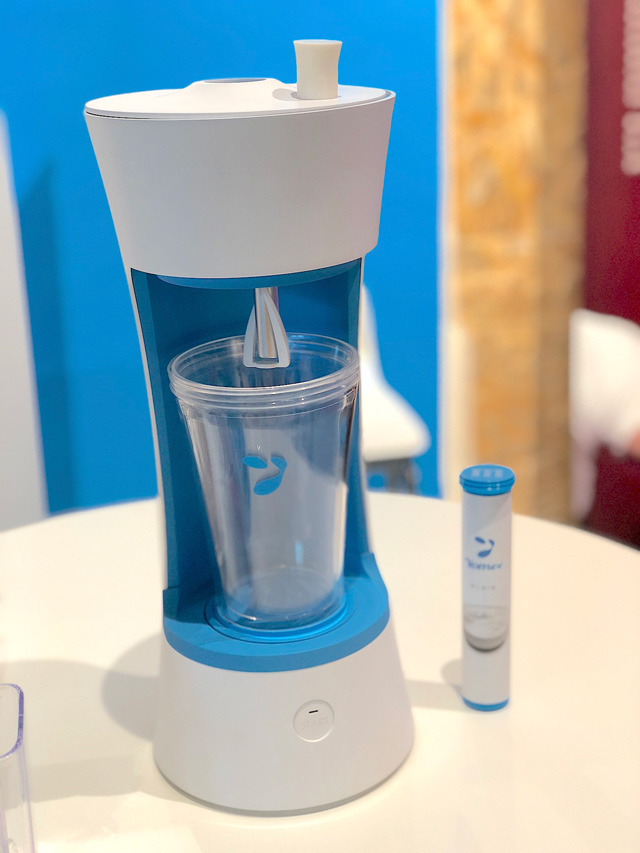 If you can make coffee at home, why not yogurt? Yomee says you can with its Keurig-like yogurt-making machine ($149, March 2019). You simply drop in a yogurt plug – you can see one perched atop the Yomee in the photo – and just add milk. Your yogurt will be ready in about 30 minutes. How does it taste? Don't know – they didn't perform any live demos while I was there. A tube of five two-serving plugs will cost you $4, so 40 cents a serving. At the moment, the only available flavor is plain, but the company says there'll be blueberry, strawberry and vanilla by the time Yomee goes on sale. One caveat: while you can pre-order it now on Indiegogo, you should wait until the product has started shipping since the ship date has already slipped from August this year to March 2019.
Art Deco TV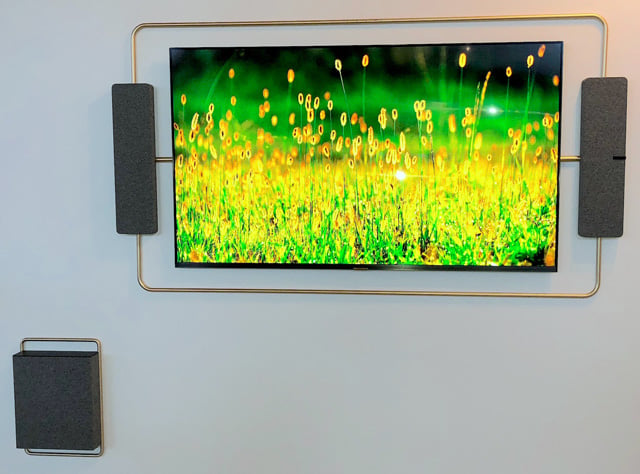 If you want decent sound from your TV, you have to add a soundbar or a home theater system with speakers that aren't exactly feng shui. TCL has a more interior décor friendly solution with its new line of four Living Window 4K TVs that combine screen and Onkyo speakers and subwoofer in singular striking designs. Pictured is the Art Deco with a 65-inch QLED screen; there also are Abstract Beauty (65-inch), Modern Simplicity (65-inch) and Oriental Elegance (55-inch), each reflecting design concepts inspired by Art Deco, Cubism, Piet Mondrian and Asian art. No word if or when they'll reach these shores, however.
Adorable robotic dog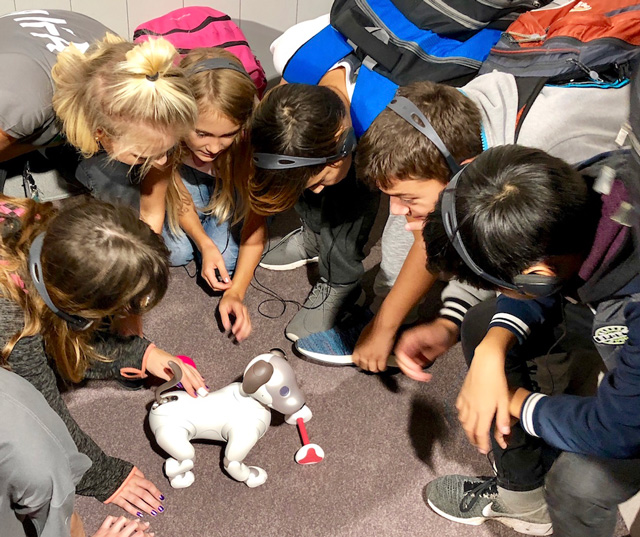 Any other questions about how popular Sony's new-and-improved Aibo Limited First Litter Edition robot dog ($2,899) will be with kids? Sure, it's pricey, but you never have to buy dog food, it never needs to go to the vet, and it doesn't leave a lot of dead batteries or shed dog hair. This is actually the sixth generation of Aibo, which is now cloud-connected AI with image sensors that allow Aibo to learn and recognize faces, and detect and analyze sounds and images. To mimic more real-life physical movement and adorable body language than earlier models, Aibo has 22 axes, and can be accessed remotely via Wi-Fi. it'll go on sale bundled with accessories and toys this month with promised delivery by the holidays.
Your future service robots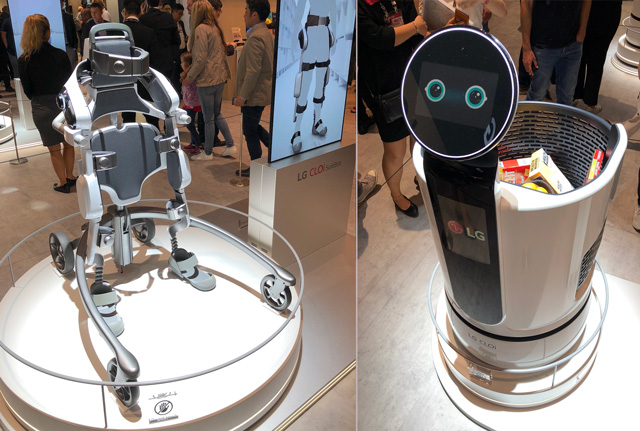 At some point in the future, you may come face-to-anthropomorphic-screen with one of LG's new commercial/industrial CLOi (pronounced like the girl's first name Chloe) service robots. This CLOi clique includes the CartBot for schlepping items around a sales floor and the exoskeleton SuitBot (pictured), along with the tour guide GuideBot, a waitperson ServeBot, the bellhop substitute PorterBot and the maid-like CleanBot.
App-controlled instant-film camera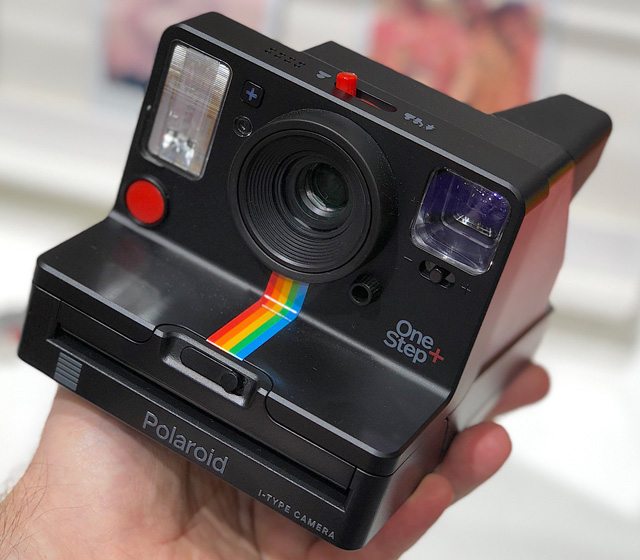 Polaroids were cool, fell out of favor in the digital camera era, and now are suddenly cool again. The folks who now run the company, an outfit called Polaroid Originals, have smartened up the old instant photo system with its app-controllable OneStep+ ($159, check price on Amazon), which went on sale this week. Connected via Bluetooth to your smartphone, you can use the app to create double exposures, add light painting, use a self-timer and remote shutter release for instant selfies via a button or triggered by a noise, enable manual DSL-like photo settings, and can scan and auto-fix your printed photos. Eight-shot film packs will cost $16. And, as always, no shaking necessary.
True-wireless in-ear Bluetooth headphones with ear hooks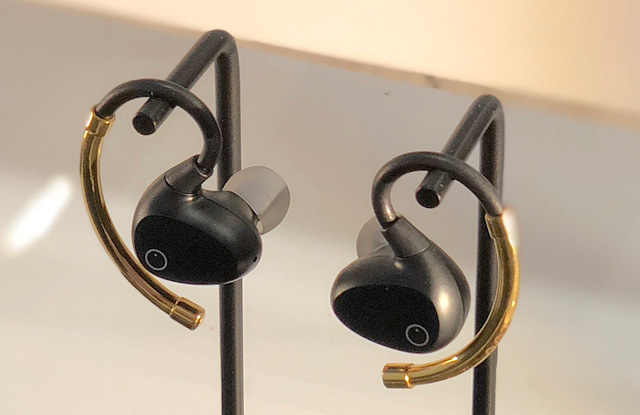 One fear folks have about in-ear wireless earbuds are them not popping out while exercising or just moving normally. A company called Eoz seems to have addressed this popping-out paranoia with its Eoz Air, true wireless Bluetooth earbuds ($149) with golden ear hooks that wrap around your lobes ensuring placement stability. The Airs, which will go on sale at the end of the month, will come in three stylish gold-plus color combos.
Smart eco-friendly washer-dryer combo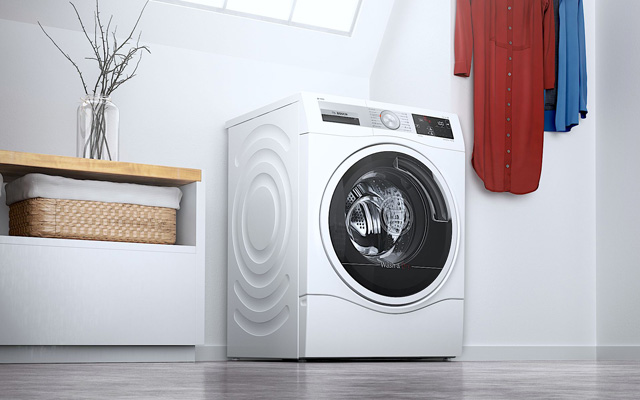 Single-unit washer-dryers aren't unusual, but Bosch's new Series 6 WDU28640 is the first with the company's convenient i-DOS automatic dosing system, which automatically assigns the right water and detergent combo to derive the best ecological, economic and cleaning outcomes – the company claims i-DOS saves nearly 1,900 gallons of water and 30 percent of detergent a year. This Bosch combo can wash up to 22 pounds of clothes and dries around 13 pounds, and can be remote-controlled via the company's Home Connect smart home platform. As with many appliances unveiled at IFA, it's not clear yet if/when this space and money saver will make it to the U.S.
[Image credit: Stewart Wolpin/Techlicious, Bosch]