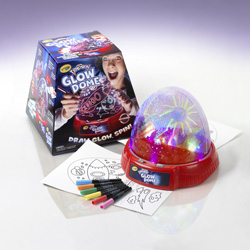 Simple, yet engaging, the Crayola Color Explosion Glow Dome promises to give your little ones lots and lots of creative freedom.
Perfect for parties, camping trips or just everyday (or night) fun, this toy lets kids sketch on two different lighted surfaces—one that stays stationary and one that spins with a built-in motor at different speeds. They either draw freely with the included six colored markers or use the two tracing guides to draw pre-printed scenes. Playing with the spin speed and lighting controls can create the illusion of animation on your walls and ceilings. And, it glows in the dark, which is always cool.
We recommend this for kids aged 8 to 12, but feel free to let your little ones at it if you're there to help out. Though most of Crayola's products are fairly low-tech, we like that this venerable company is mixing things up and giving us something to write about. Retails for $30 and takes three AA batteries (which are not included).