Who needs to buy a coloring book when you can color in pictures from your last vacation? This is the question Crayola has posed to children with its new Lights, Camera, Color web application.
Taking coloring outside the box, Crayola's Lights, Camera, Color is a free application that allows kids to create, print and color their very own coloring pages from digital photos they upload and customize with text and graphics. Who wouldn't rather color in a picture from their last birthday party rather than Elmo, again?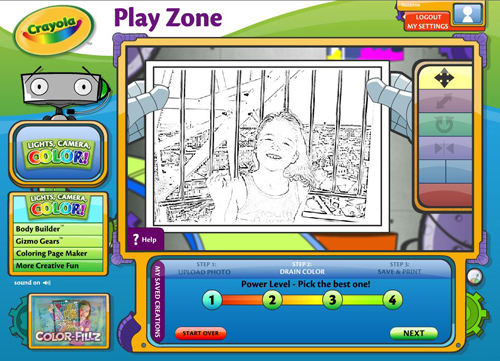 All you need to print out the pages is a specially-marked box of Crayola crayons, which will have a code printed on it, good for three months (48-count box) or six months (64, 96, 120 and 150-count Crayon Tower) of unlimited prints. Then you choose a digital photo on your computer and upload it with Lights, Camera, Color application at Crayola.com. The app will make the colors from the image disappear, instantly morphing it into a piece of black and white line art. Then, you can personalize it by adding text, and graphics. (You can do the same thing using Adobe's Photoshop Elements by following these instructions at fototiller.com. Make sure your foreground color is set to black.)
For the holidays, Crayola is teaming up with Olympus to introduce the FE-46 Digital Camera Coloring Set which will feature the application. It will include a FE-46 digital camera and case, 64-count box of Crayola crayons (with six-month code), storage box and code to turn your pics into pages. The 12 megapixel camera includes a 5x optical zoom and comes in light blue, light pink, pearl black and pearl white.