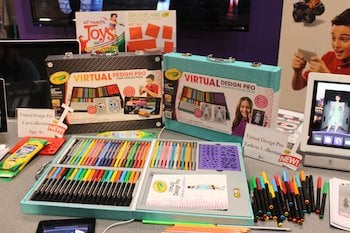 Augmented reality has finally evolved during the past year from fun gimmick to engaging entertainment, and companies like Crayola are taking advantage of it. By combining what it does best with the best of AR technology, Crayola is taking the coloring book to a whole new level.
Crayola's Virtual Design Pro coloring kits come with dozens of markers and colored pencils, stencils, a special sketchbook and a free app for iOS and Android. This year, there are two themes: fashion show and cars.
Kids add color and design to the outfit or automobile templates, then snap a photo with a tablet or smartphone to bring those same designs into a virtual world. The app smooths out the designs and adds dimension; kids don't have to stay inside the lines or be ultra neat. Once what they've colored is in the app, more design options become available.
And then it's time to race the car on a stunt track or create a runway show.
This is a welcome change to the kinds of augmented reality toys we've seen in the past, where virtual worlds are already set and the experience remains more passive. For kids who love to create and put their own personal mark on the world, the Virtual Studio Pro offers agency in both the real and digital worlds — and it's not only about what's happening on screen.
The only thing I wish is the Virtual Fashion Show app offered is a more interesting storyline. The racing element of the car coloring set comes off as more active and engaging. There's nothing keeping Crayola from adding more content to the apps over time, including more things kids can do with the cars and outfits they design.
The Crayola Virtual Design Pro Fashion Design and Car Design sets will be out this fall. A smaller My Virtual Fashion Show set that offers fewer coloring tools but the same sketchbook and app is out right now for $22 from Crayola.
Price: $40 from crayola.com