What you'll notice first about the 2.99-pound Dell XPS 13 Ultrabook is its slim profile and stylish design. By using a bezel-free screen design, the XPS effectively delivers a 13-inch display in a body size typically found in a 12-inch laptop, including a full-size backlit keyboard. The design is distinctively thin, less than a quarter inch (6mm) at the front edge and less than three-quarters inch (18mm) at the thickest point.
But don't let its size fool you. There's a lot of power under the hood, with your choice of Intel's 2nd gen Core i5 or i7 processor. A Gorilla Glass screen provides rugged defense against on-the-road collisions, while carbon fiber construction provides both strength and light weight. Plus battery life if rated at 8 hours.
Today through Saturday, February 25th, it's being used to create a music video in Intel and Dell's Create.Work.Inspire. event in Brooklyn.
4:00PM ET
I'm heading over to check out how this powerful machine makes music happen. Check back for our live updates from the event. For more information, check out the Create.Work.Inspire event page on Facebook.
5:00PM ET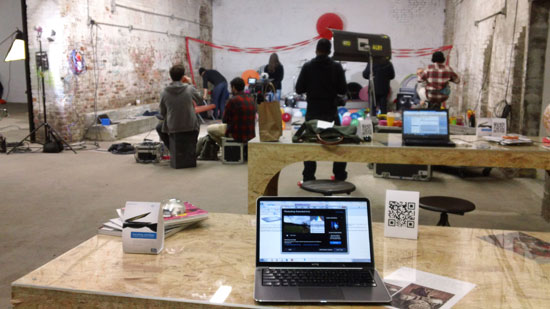 Here's my workstation, a sleek little Dell XPS 13 Ultrabook. Behind it, you'll see people blowing up balloons in prep for the dancers to practice their choreography. The dancers are currently in hair and makeup.
5:30PM ET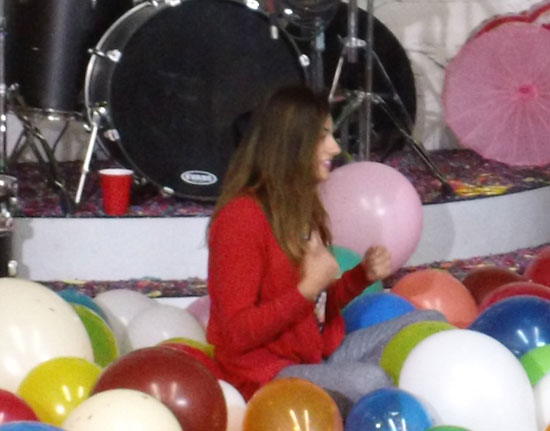 When choreogorapher Jules Bakshi is working on a project, she dances in front of her computer, capturing her moves in a digital notebook.
6:00PM ET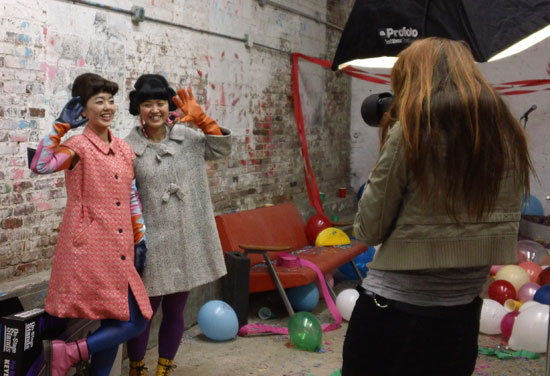 Photo opp! Loving the costumes for the video!
6:20PM ET
The choreographer rehearsing some moves for the video.
6:30PM ET
I'll be back tomorrow to continue our coverage of Create.Work.Inspire.
11:30AM ET February 24, 2012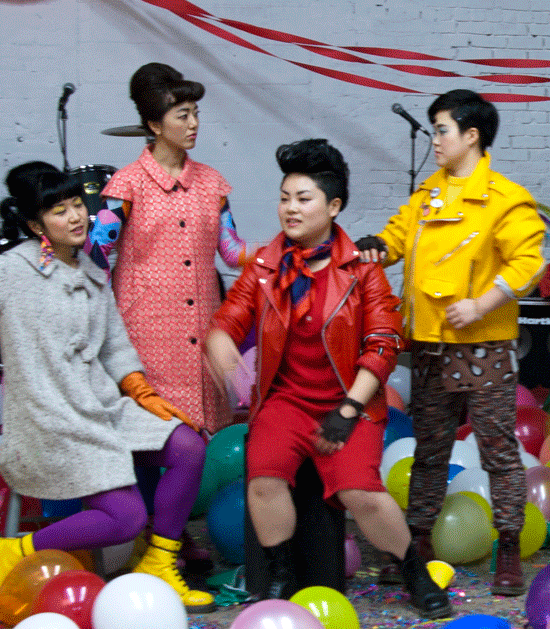 Here's a shot of the Suzan, the Japanese band featured in the video, that I shot last night. Really looking forward to seeing the video shoot today,
1:00PM ET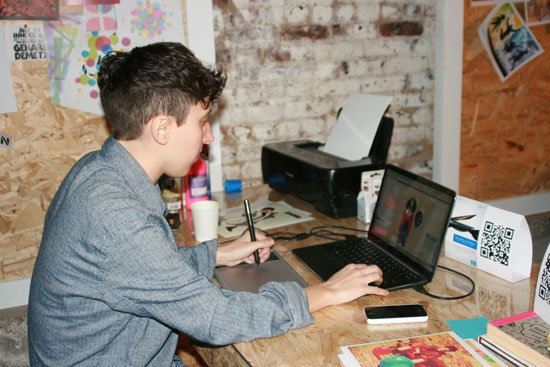 Graphics can add color and texture to a music video says Lauren Stec, a graphic designer on the Suzan video. She's used to working on a Mac, but has easily made the transition for this project to the Dell XPS 13 Ultrabook. It easily runs Adobe Photoshop and Illustrator.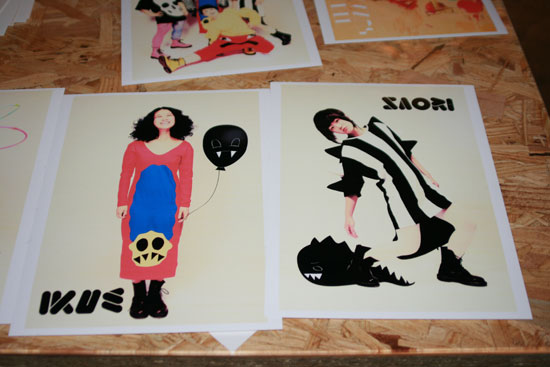 Some of Lauren Stec's graphics. She created illustrations for each band member.
1:30PM ET
Signing off for now.
February 25, 2012 8:00PM ET
Enjoying the premiere of the music video for the Suzan. Here's Mindy Abitz, Editor of Tom Tom Magazine, describing the making of the video using the Dell XPS 13 Ultrabooks.
It's been truly inspiring to witness the creation of such an incredible work in just 3 days. I should mention that all of the updates to this post were done on a Dell XPS 13 Ultrabook--from the writing to the photo editing to the video editing.
It's been fun! Here's the final video for your enjoyment!