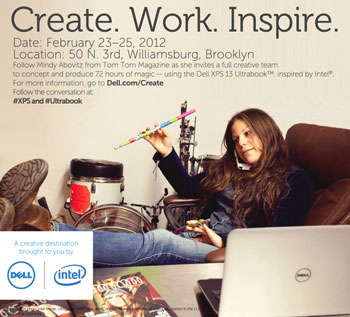 February 23-25, Intel & Dell will be in NY for another Create.Work.Inspire. event, showcasing how the Dell XPS 13 Ultrabook is the optimal tool for creative professionals on the go. This time the Dell XPS 13 Ultrabook is the key player in the creation of the music video "Home," by Japanese Rock Trio, The Suzan.The production team and direction of the video will be curated by Mindy Abovitz, the creator and editor of Tom Tom Magazine.
We'll be there to document how the Create.Work.Inspire teams uses the Dell XPS 13 Ultrabook to create video. So check out our Live Blog of the event and follow the Twitter hashtags #XPS and #Ultrabook.
Curious about the XPS 13 Ultrabook? Attend the Create.Work.Inspire event at Villain Studio,50 North 3rd in Williamsburg, Brooklyn to see it for yourself.
Thursday, 2/23 from 10am - 5pm - Stop by to be a part of the set creation, artist styling and The Suzan photo shoot.
Friday, 2/24 from 10am - 5pm - Join us we film the music video for "Home"
Saturday, 2/25 from 6pm - 9pm (RSVP event) - Celebrate the past 72 hours of magic with the music video premier and a live performance from The Suzan.
For more information, check out the Create.Work.Inspire event page on Facebook. And for a preview of what you can expect. Check out the video below from the Create.Work.Inspire. photography event at the Carte Blanche Gallery in San Francisco.

So why the Dell XPS 13 Ultrabook? It's light, slim, stylish and powerful. By using a bezel-free screen design, the XPS effectively delivers a 13-inch display in a body size typically found in a 12-inch laptop, including a full-size backlit keyboard. The design is distinctively thin, less than a quarter inch (6mm) at the front edge and less than three-quarters inch (18mm) at the thickest point.
There's also a lot of power under the hood, with your choice of Intel's 2nd gen Core i5 or i7 processor. A Gorilla Glass screen provides rugged defense against on-the-road collisions, while carbon fiber construction provides both strength and light weight. Plus, battery life is rated at 8 hours. In all a great combo for a creative professional on the go.