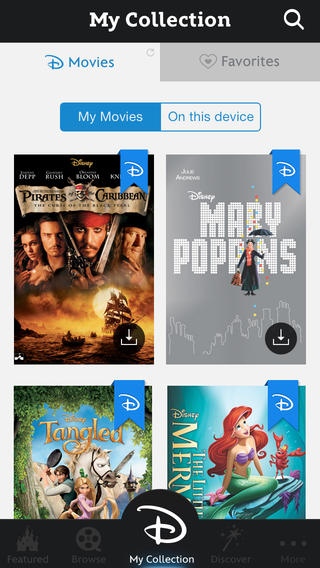 Disney this week launched a new iOS app and web service called Disney Movies Anywhere. It's a digital locker service for all the Disney movies you've bought online and off.
The free app connects with your iTunes account to figure out what movies you've already purchased. You can also enter in Disney KeyChest codes found on DVDs and Blu-Ray discs to redeem their digital copies. Movies you own can be downloaded to your device and played through the app or streamed if an Internet connection is present.
Disney Movies Anywhere has built-in parental control feature that lets you limit your kids' access to movies based on MPAA ratings. You'll also be able to find some exclusive behind-the-scenes videos and other extras.
You probably don't need the Disney Movies Anywhere app unless you're a serious Disney loyalist with a growing collection. After all, you can still watch and manage movies via iTunes without it, and none of the features are killer must-haves. Still, everyone who tries the app out gets a free digital copy of The Incredibles. That movie alone makes the download worthwhile.
You can learn more about Disney Movies Anywhere by visiting the service's web portal at disneymoviesanywhere.com. Disney Movies Anywhere is available for free download on Apple iTunes.