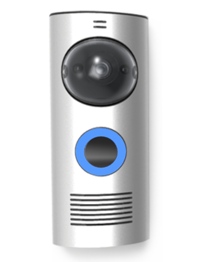 One of the more trendy technologies these days is remote monitoring. Security cameras have been around for a while, of course, but universal mobile 4G high-speed internet is still something that's pretty new. Companies are just starting to explore the technology's future, and a few are come up with some pretty fascinating ideas.
One such product called the DoorBot caught my eye yesterday when it was introduced at PSFK's Future of Home Living event in New York City. In its simplest terms, DoorBot is a remote monitoring doorbell – any time someone rings the device, a camera will activate to send video directly to your phone or tablet. That way, you can see and talk to the person at your door before you go through the trouble of unlocking it.
You can pair DoorBot with as many devices as you want. Of course, it's best paired with a 4G device so you can interact with visitors to your home even when you're not there. An optional $150 add-on called the Lockitron allows you to also give visitors access to your home from afar, much like you can with the Kwikset Kevo.
Should you have the desire and know-how, DoorBot can be hardwired to your house much the same way a traditional doorbell is. If you're of a less-technical sort, this doorbell can operate on its rechargeable lithium-ion battery instead. According to the manufacturer, you'll get a year of use out of the battery before it needs recharging. DoorBot also comes with mounting hardware to help secure it to your home and keep thieves from taking it.
The new, sleeker DoorBot works with both iOS and Android devices; you can pre-order the $199 device now on the DoorBot website and it will ship September 2013. In the meantime, you can check out a few other high-tech ways to keep an eye on your home while you're away.