Microsoft kicked off the E3 gaming conference in Los Angeles today with a major push to deliver new experiences for the best-selling but software-light Kinect controller. As you probably know, the Xbox 360-exclusive Kinect combines motion-tracking to respond to user gestures with audio input. The games demoed today made extensive use of both capabilities.
For example, space warfare game Mass Effect 3 enables voice control of dialog choices during character interaction, and also voice command of squad members during combat sequences. Tom Clancy's Ghost Recon: Future Soldier combines gestures – you fire a gun by opening and closing your hand, for example – with voice commands to customize your weapons. There has been some question to date about Kinect's relevance for games tailored to hardcore players – these are attempts to answer that complaint.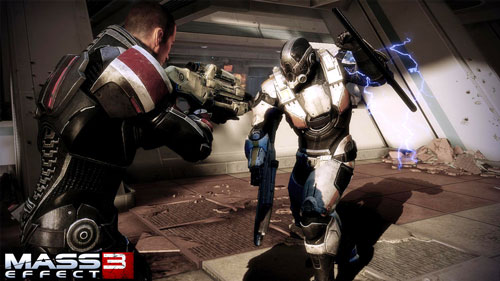 Electronic Arts announced Kinect support for its major sports titles, including Tiger Woods, Madden NFL and FIFA soccer, but you won't be able to call an audible at the scrimmage line until 2012. This 2012 timeline was unfortunately fairly common among key releases, including Ninja Gaiden 3, a relaunch of Tomb Raider and the next entry in the Fable franchise, Fable: The Journey.
Kids and Kinect are a natural pairing, given the required energy levels for whole-body play, and several popular characters are headed to Xbox 360. A demo of Kinect Disneyland Adventures had two kids "flying" with arms spread out through a virtual Peter Pan adventure, while Sesame Street: Once Upon A Monster paired a dad and son playing a kind of Simon Sez with a friendly on-screen monster.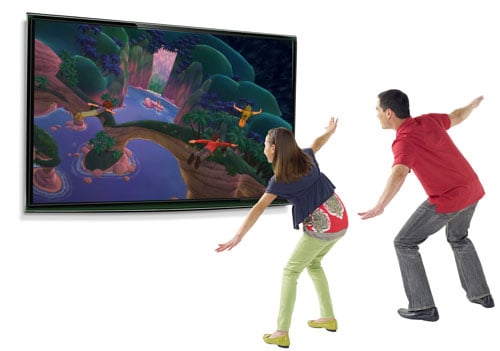 Star Wars also made an appearance, with light-saber swinging and Force pushing figuring prominently in the Kinect Star Wars demo.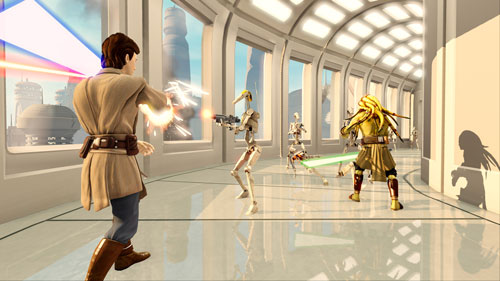 A key question still to be answered for Kinect is how accurately you can control fine movement. Most of the gameplay demonstrated at the press conference involved broad movements rather than pinpoint precision. We won't have an answer till we actually get some hands-on play time.
An interesting extension of the Kinect concept are non-game uses of the controller as an input device. Microsoft is bringing the Bing search engine to Xbox 360, and enabling voice input to circumvent the tedious one-key-at-a-time on-screen keyboard input. They're also opening up a new Xbox Live feature called Kinect Fun Labs, where users will be able to play around with innovative Kinect capabilities. One of the most impressive demos of the day had a product manager scanned by the Kinect system, which in a few moments produced a surprisingly lifelike avatar recreation, right down to hairstyle, face and even clothing, with no time-consuming manual input at all.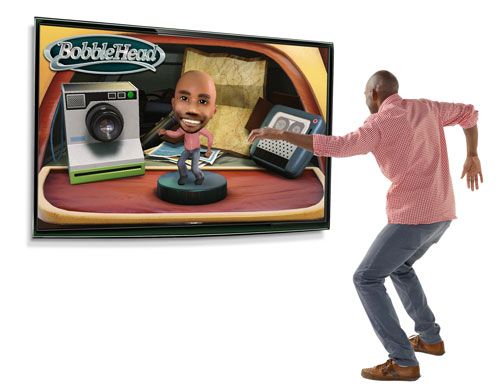 One of the potentially most intriguing announcements was sadly short on detail. As rumored, Microsoft announced that it would be bringing live TV to the Xbox 360 this year. They showed an episode of the ABC show Castle playing in the demo, but no specifics on how much content would be available, when it would arrive and what it would cost were presented.
Finally, Xbox 360 true believers got the dessert they were hoping for as the press conference drew to a close – a brief trailer for Halo 4, along with the announcement that this is the first part of a new trilogy. That was the good news. The bad? A holiday 2012 release date means a long wait. That said, the first-rate demos for key 2011 titles Call of Duty: Modern Warfare 3 and gears of War 3 promised enough run-and-gun action to keep fans satisfied in the meantime.