According to the Center on Budget and Policy Priorities, almost two-thirds of states provided less per-student funding for K-12 education in the 2012 fiscal year than they did in fiscal year 2008. So many parents support school fundraising efforts to keep important programs in place and make sure teachers have what they need to educate kids properly.
But fundraising doesn't need to mean hitting up friends and family for overpriced cookies or wrapping paper. Several online options exist that let you help schools without going door to door.
Schoola

Schoola.com is a Groupon-style program that connects parents with local and national businesses for deals on everything from clothing to food to personal services. Local school groups can use Schoola to set up the deals and share them with parent communities online. Schoola handles the purchases, fulfillment, and sending checks to merchants and schools. Supporters, for their part, can designate a percentage of their purchases to be donated to specific schools.
This week, from Sept. 24-28, Schoola has a special initiative going on called "Shop for America's Schools, The World's Largest School Fundraiser." As part of it, big brands like ProFlowers, Omaha Steaks, Walgreens and Shutterfly are offering discounts as high as 50% with a percentage of the sales going to schools that purchasers choose.
GoodTwo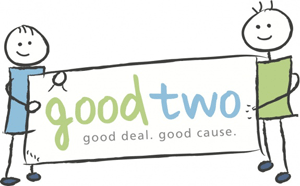 GoodTwo is another online program that lets fundraisers run custom offers from local and national businesses and its campaigns give to schools and other non-profits between 10% and 25% of each sale.
Setting up a fundraiser takes just a few minutes. To do it, you complete an online form where you explain your mission and fundraising goals and upload photos or videos. You also choose deals on restaurants, services and shopping to offer supporters and then push your fundraising page out on Facebook, Twitter, email or your web site.
GoodTwo charges businesses that offer deals on its site a fee that includes the cost of credit card processing but no money is taken from the fundraisers themselves—if the offer says $5 is donated to a school from a purchase, that's what it gets.
Shoparoo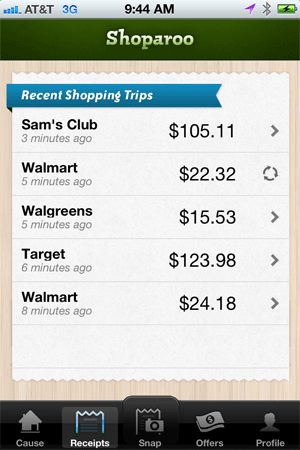 If you've ever collected box tops as a way to bring extra dollars into your child's school, Shoparoo is an easier alternative.
Shoparoo is a free iPhone and Android app that you use with your phone's camera to scan grocery store receipts, which Shoparoo uploads and processes.
Shoparoo makes its money (and hence, the donations it gives to schools) because major consumer goods companies pay it to turn the receipt data into anonymous market research reports such as: "Families in Phoenix are 20% more likely than the rest of the country to shop for soap at a supercenter than a traditional grocery store." It also lets brands promote themselves by giving special offers such as "Receipts containing purchases of Brand-X products earn double donations during August."
The app, which works on any Apple or Android smartphone or tablet (Android 2.2 or later), is location enabled; so when you fire it up, it will suggest schools near you, which makes finding your child's school a snap.
Every time you open the app you can see how your school's fundraising efforts are progressing. In August 2013, Shoparoo will mail a check to the school's principal (or charity headquarters) based on the total amount raised by registered supporters as of midnight Pacific Time on July 31, 2013.