Facebook launched a new Profile page layout yesterday that dishes up a more lively-looking display than the old text-heavy format, with lots more photos sprinkled around the page. The decision to switch is purely optional. So should you?
The info section now leads off with a sort of mini-resumé, listing work status, educational background, current city, relationship status, home town, birthday, etc. in a bullet-point paragraph. Beneath this are five photos, either drawn from your own stream or friends' photos in which you were tagged.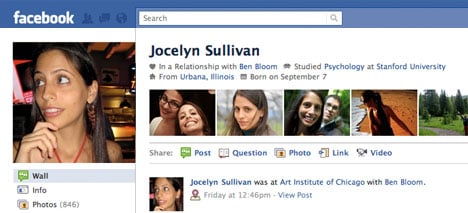 Next come sections with more education and work information. To me this feels misplaced. If I were using Facebook to apply for a job, this emphasis on background info would make sense. For my friends, I'd rather they see my interests and activities up top.
Which brings up a key point: while you can customize the information in individual sections, you have no control over the layout order – it's Facebook's way or the highway, which seems like an antiquated approach.
The sections on your interests now include stock photos where possible. Instead of simply listing my favorite musicians and movies, there are now stock photos of performers and movie posters, which makes for a more fun, browsable experience.
Navigation options for Wall, Info, Photos and Friends move to the left-hand column, right under your profile picture. The Friends section gains a thumbnail image layout that looks for all the world like a school yearbook, and an expanded search capability, allowing selections by current city, hometown, school, workplace and interest as well as name. On Day One, this feature is working fine in Firefox and Chrome but not in Internet Explorer 8, a hiccup that's sure to be addressed quickly.
One new feature that's sure to ramp up tensions within social circles: You can now create a Featured Friends list that highlights the people who are most important to you. Imagine the high school hallway consternation when Jill moves Tiffany onto her Featured Friends list and strips Rachel of her special status!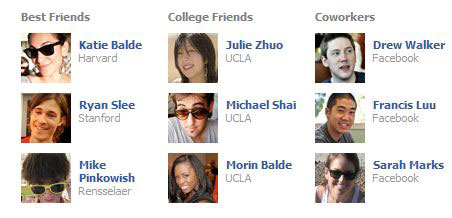 There are lots of additional tweaks and renovations involved in this update. For a complete rundown, visit www.facebook.com/about/profile/. You'll find an option to adopt the new look on the same page. What you won't find anywhere, though, is the ability to go back to the "classic" look after making the switch – this is a one-way ticket to Facebook's view of the future, optional for now, but irrevocable, which feels a bit authoritarian.
I made the switch, and while I don't like the top-to-bottom section hierarchy, I do prefer the new look and feel. There's no change to Facebook's always-controversial privacy policies in this release, so that's not a stumbling block. If there's any fodder for corporate conspiracy buffs, it's the fact that, in the new layout, areas where I haven't filled in the profile blanks are much more prominent. Facebook thrives on pumping up the quantity of available information, and this update does encourage you to fork over more data. It's strictly voluntary, though, making this move more smart than sinister in my opinion.