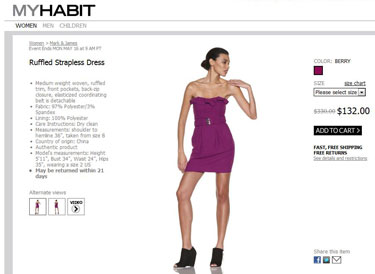 Last week I got a note from Amazon, inviting me to join their new private online shopping club, MyHabit. I'm familiar with other clubs like Gilt, HauteLook and Ideeli that provide huge discounts—up to 80 percent off—on designer clothing and more. I have friends that have bought items and even belong to a number of sites, but I've never completed a purchase because I've been leery of the shipping fees and return policies.
Some sites will cover shipping items to you. Others, like Ideeli and Gilt, have a flat rate of $9.95 for all items. If you don't like the item or it doesn't fit, most sites require you to ship the item back on your dime in as little as 7 days and up to 21 days. (Ideeli is an exception, offering free returns on most items.) And here's the big one for me—you get store credit, not cash back.
Amazon's MyHabit mostly fixes my issues with online shopping clubs. There's free shipping both ways and you get 21 days to return items, which is generous. You do get store credit for anything your return, but that credit can be used on Amazon and Endless (shoes), as well as MyHabit. Given the breadth of what Amazon has to offer, I know I'll find something to spend my credit on.
In addition to better shipping and return policies, MyHabit provides an upgraded shopping experience. For apparel, you can watch a short video clip of a model wearing the item. The model's measurements and clothing size are listed next to the video so you can better judge how it might look on you.
When you put an item in your cart, it's yours, but only for 10 minutes, which lends an artificial sense of urgency during the buying process. If you wait more than 10 minutes, the item will still be there, but there's no guarantee it will be available when you check out.
With MyHabit, I finally feel that I'm ready to enter the online flash sale fray. Today there are great deals on Bruno Magli shoes and handbags, Alejandro Ingelmo women's shoes, Charles Jourdan shoes and Wendy Mink jewelry. Choices, choices…