Congratulations to Shilo Beedy! You've won the Flip UltraHD camcorder!
Flip UltraHD Camcorder Giveaway!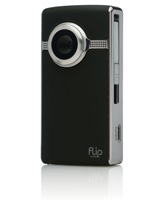 Enter now through January 26, 2010 to win a Flip UltraHD Camcorder ($199 MSRP)!
The Flip UltraHD camcorder combines Flip Video's signature shoot-and-share simplicity with the power of vivid, vibrant HD (720p) video. With 120 minutes of record time, you'll never miss another minute again. And because of UltraHD's pocket-sized portability, you'll truly be able to capture HD video anytime, anywhere.
This special CES edition includes the DTS logo on the front.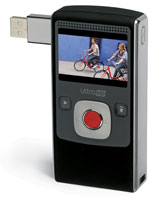 Simple to Shoot:
• Easy-to-use, pocket-sized HD camcorder
• Captures 120 minutes of HD video on 8GB of built-in memory; no additional memory needed
• Comes with Flip Video rechargeable AA battery pack (recharges when connected to USB); Camcorder also functions with two standard AA batteries
• Large 2.0 inch anti-glare display to play back and delete videos
• 2x digital zoom
• Flip-out USB arm plugs directly into your PC or Mac to launch pre-loaded FlipShare™ software
• HDMI™ output (mini-HDMI connector) makes it easy to watch video on your HDTV; Standard HDMI™ cables sold separately (buy now)
• Video: 16:9 widescreen, HD 720p (1280 x 720) at 30 frames per second (fps) progressive scan; recorded as MP4 files
• Pre-loaded FlipShare™ software for instant viewing, editing, one-click emailing, and online sharing to Facebook™, MySpace™, YouTube™ and other video sharing sites

How to Enter
To enter the giveaway:
Simply subscribe to the Techlicious newsletter using the "Subscribe" box on this page or any other page on the site—be sure to provide your name, city and state when subscribing
Then, post a comment below indicating your interest in entering the giveaway. Please use the same email address you subscribed with when commenting.
Maximum of one entry per person. The giveaway will end at 11:59pm on January 26, 2010.

Official Rules
We will randomly select one (1) winner from the entries. No purchase is necessary to win. Void where prohibited. U.S. residents only. Click here for the full rules.