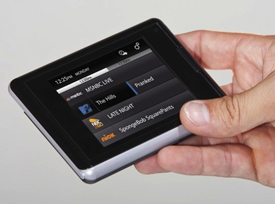 For some, the wonders of on-demand TV, iTunes video downloads and DVRs just aren't enough. There are some that just prefer live TV. For others, it's that they're constantly on the go, without regular access to a TV or a computer with an Internet connection. For those people, there is a relatively new service by a company called FLO TV that streams live content to FLO TV enabled devices.
The first batch of gadgets that were able to use the service were cell phones from Verizon (using the brand VCast TV), followed shortly by a similar service from AT&T (AT&T Mobile TV). But now, this mobile television technology is getting its own dedicated devices.
FLO TV has launched a series of branded portable TVs and in-car entertainment units that allow you to take live TV with you wherever you go. The personal unit is available for $250 through Amazon and Best Buy. The price includes the first six months of service, after which you'll have to cough up a $9 monthly subscription fee—and you'll have to sign a three year contract to get that low of a price.
The device is larger than a cell phone, making for a more pleasant viewing experience, but still small enough to fit in a purse or a large pocket. Content is provided from kid friendly outlets, like Nickelodeon (great for keeping kids quiet on a long drive), as well as more adult themed providers like Comedy Central and CNN.
Sadly, while the unit has easy to use touch screen controls, and a headphone jack for private listening, it doesn't have a video out jack. So if you want to share what you're viewing, people will have to crowd around the 3.5-inch screen.
Considering some of the limitations of the device, the price and subscription cost seem a bit high. But if you're an absolute media addict with a few bills to spare, it's a purchase worth considering.