As announced last Friday, everyone who buys an iPhone 4 through September 30th, is eligible for a free case. But there are some limits. For iPhone 4 purchases made before July 23, 2010, you must apply no later than August 22, 2010; otherwise, you must apply within 30 days of your iPhone 4 purchase.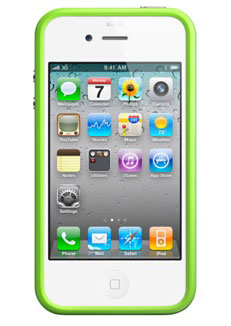 The cases available are the "bumper" type (pictured), but in black only, and slightly more stylish "skins" from Belkin, Griffen, Incase and Speck.
To get your free iPhone 4 case, follow these steps:
Download the iPhone 4 Case Program app from the App Store.
Launch the app on your iPhone 4 and sign in using your iTunes Store account or Apple ID.
Select your Bumper or case.
According to the iPhone 4 Case app, the delivery estimate is 3-5 weeks for each of the cases. If you're having "death grip" problems and want something sooner, this is a cute alternative to tide you over.
You can can also get a refund if you already purchased a bumper for your iPhone 4, including any taxes and shipping fees.
According to Apple:
If you bought your bumper directly from Apple by credit card, Apple should have already refunded your account. It may take up to one billing cycle for the refund to appear.
If you paid cash, check, or gift card at an Apple retail store you must return to the store with your receipt by September 30, 2010, to get your refund.
If you paid by gift card on the Apple Online Store, Apple will automatically mail you a new gift card for the refund amount.
If you bought from an AT&T store, Apple will reimburse you for the purchase price of your iPhone 4 bumper. Just fill out this rebate coupon and mail it to Apple by September 30, 2010.