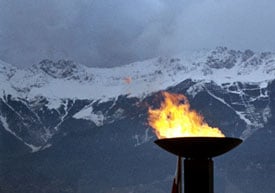 For the 2010 Vancouver Winter Olympics starting tomorrow, NBC Universal and its various networks (USA, MSNBC, CNBC and Universal HD) will be broadcasting nearly 850 hours of coverage, all in HD for the first time. The total TV coverage is more than double that of the Torino games four years ago. But not only do you not need to be in front of a TV to keep track of the games, you'll likely want to keep a laptop propped open in front of you while you're watching, to follow all the chilly action and the athletes.
Considering that Facebook was not even two years old and Twitter didn't even exist, the amount of social media coverage for this Olympics is unprecedented. Of course, many of your favorite athletes have their own Twitter feeds and Facebook pages. But here are some of the other sites to surf while staring at the skiing and skating. Who needs a TV?
Twitter: Tweet "I love @olympics #videogamecontest" until Feb. 28 for a chance to win the official Olympic video.
Official online videos: Olympic.org; vancouver2010.com; YouTube: View hundreds of Olympic videos and thousands of Olympic photos at these International Olympic Committee (IOC) sites.
Facebook: Along with the usual updates from the games, attendees can post their own pictures from Vancouver for a chance to win tickets. There's also a Facebook Olympic game app.
YouTube video challenge: Create videos proving you can out-do Olympic athletes in wacky Beat the Clock-like semi-athletic "challenges" for a chance to win tickets to Vancouver or the Youth Games in Singapore.
Verizon V CAST: Verizon Wireless customers can view athlete profiles and video, daily updates, results and other news from Vancouver on the NBC Sports and NBC News channels on V CAST Video and on the NBC2Go channel on their cell phones.
Verizon FiOS: If you subscribe to Verizon's TV service, you can access an on-screen interactive application offering real-time medal counts, athlete bios, team USA reports and Olympic news, as well as full event rewinds on FiOS TV On Demand.
nbcolympics.com: The network's own web site offers not only news, event schedules, results, athlete profiles, video replays and photos, but a "Tweet Sheet" featuring athlete and expert Twitter posts, widgets to follow the games away from this site, and a Primetime Challenge in which viewers can compete in real-time against friends and other fans in trying to predict the outcome of live events, answer Olympic trivia and polls.