Join us for a Techlicious Tea Event
Date: Thursday, August 8, 2013
Time: 1 p.m. ET/12 p.m. CST/11 a.m. MT/10 a.m. PT
Hashtag to follow: #techtea
Hosts: @techlicious @suzannekantra @c2cmom @wellconnectdmom @23andme
Learning your genetic risk for various diseases and conditions will allow you and your doctor to focus on the lifestyle changes and preventative steps that matter most for you. And, you'll know what the likely issue is, if you start seeing symptoms, so you can start treatment early.
During the party, we'll be talking about how finding out about your ancestry can help you make better health choices:
Did you know you can be tested for increased risk to contract Alzheimer's Disease, Celiac Disease, Uterine Fibroids and many more?

Have you been tested for carrier status on diseases? What does that mean?

How does your ethnicity impact your likelihood of carrying certain diseases?
Did you know that your genes can determine how well you'll respond to certain medications?
Modern genetic testing from our sponsor 23andMe can help you find out. The 23andMe DNA analysis is easy to do—order a kit online, provide a saliva sample, and send it back with the provided return postage. Once the lab has completed your genetic analysis, you can access your personal results in a secured online account.
We'll also be giving away 23andMe DNA test kits to two lucky participants!
Enter for a chance to win a 23andMe DNA test kit: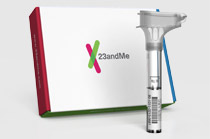 We're giving away DNA test kits (MSRP: $99) to two lucky #TechTea participants, courtesy of 23andMe!
How to Enter:
RSVP by commenting below for a chance to win! Enter your name and Twitter handle. To be eligible to win you must RSVP and participate in the event using #techtea.
Official Rules
We will randomly select two (2) winners from the entries. No purchase is necessary to win. Void where prohibited. U.S. residents only. Click here for the full rules.